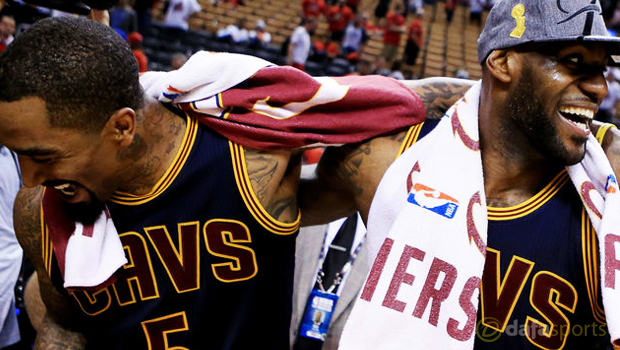 LeBron James believes his Cleveland Cavaliers side are better placed to challenge for the NBA title than they were last season, regardless of who they face in the NBA Finals.
The Cavs are already through to the Finals series after navigating their way past Toronto Raptors in the Eastern Conference Finals.
Cleveland will face either Oklahoma City Thunder or Golden State Warriors in the NBA showpiece, with their rivals facing a decisive Game 7 in the Western Conference Finals on Monday.
Last year the Cavs fell to a 4-2 series defeat in the Finals to Golden State but they suffered some key injuries in the postseason campaign. Kyrie Irving sustained a knee problem in Game 1 of the 2015 Finals that ended his involvement, while Kevin Love missed almost the entirety of the playoffs with a shoulder injury.
James feels the injuries had a huge impact on Cleveland last year and he says there is a "different feeling" in the Cavs camp as they prepare for the Finals in a bid to claim a first ever Championship for the franchise.
"I didn't appreciate last year, myself personally, on getting to the Finals," James told USA Today. "Just so much was going on in my mind, knowing that Kev (Kevin Love) was out for the rest of the season and knowing that Ky (Kyrie Irving) was dealing with injuries all the way from the first round.
I just didn't appreciate it." He added: "It's definitely a different feeling (this year). "We wouldn't be at this point today going to the Finals without those two. Throughout the first three rounds, they've been the reason why we've played at such a high level.
They've accepted the challenge. "They wanted to get back to this moment. Ky being out seven months, this guy (Love) doing rehab for three-and-a-half months on his shoulder, they just had so much built up anxiety or rage or excitement or whatever the case may be throughout the whole process.
Just to be back on the floor and to show why we were all put together."
Cleveland are priced at 2.38 to win the NBA Championship outright, with Golden State at 1.80 while Oklahoma City are the outsiders at 8.00.
Leave a comment