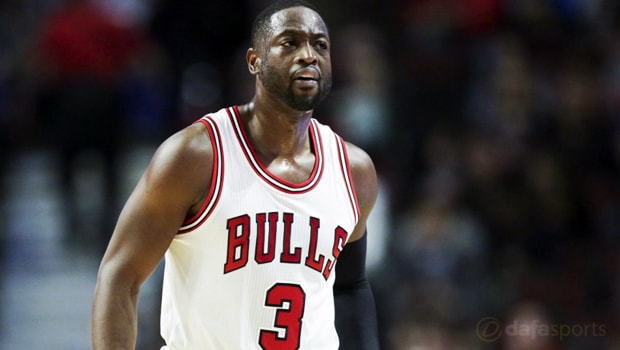 Chicago Bulls head to Atlanta Hawks on Wednesday but Dwayne Wade is already looking ahead to Thursday's trip to former team Miami Heat.
Wade was drafted by the Heat in 2003 and remained there for 13 years before leaving in the off-season to join his hometown club.
During his time in Miami, Wade picked up three Championships, became a 12-time All Star, and wrote himself into the Heat's record books by topping their all-time leading scorer charts.
"I'm looking forward to playing in the environment that I played in for 13 years," Wade told ESPN. "I want everyone to enjoy the environment, enjoy the moment."
Miami Heat will honour Wade with a video montage during the first timeout at AmericanAirlines Arena on Thursday.
The 34-year-old says he will be "appreciative of the moment" and revealed he still keeps a close eye on how his former team are performing, as both a fan and a competitor.
He added: "I definitely watch when I get an opportunity to watch them play. "One, because it's a lot of my young guys over there.
I want to see them succeed. I want to see Tyler [Johnson] and Justise [Winslow] and all those guys take that next step.
"I want to see how Hassan [Whiteside] is going to respond to everyone saying this and that about him since he got paid.
So I watch that as someone who knows them, then I watch the game as a fan and I watch it as a competitor. "I watch it so many different ways.
I'm not wishing nothing bad on that organisation. I have nothing but love for everybody in that organisation."
Chicago are 2.30 to beat the Hawks on Wednesday while Atlanta can be backed at 1.61. The Bulls are 51.00 to win the NBA Finals 2017 and Miami can be backed at 81.00.
Leave a comment