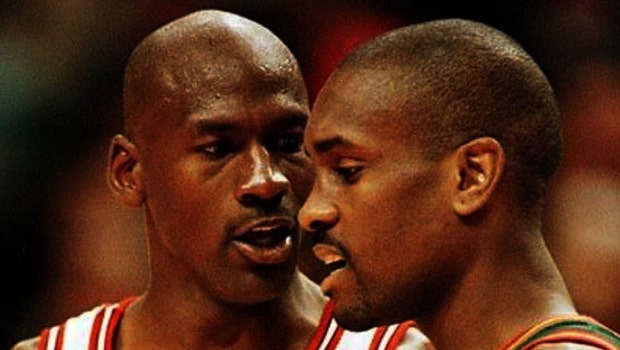 'The Last Dance' featured several raw, earnest reactions from Michael Jordan. Episode 8 may have had possibly the best look at MJ's competitiveness yet.
The episode focuses in the 1996 NBA Finals between the Chicago Bulls and the Seattle SuperSonics, detailing how they won two straight games after Defensive Player of the Year Gary Payton decided to guard Michael Jordan.
Payton said that his defense in games 4 and 5 tired and "took a toll" on Jordan. "The Glove" told the filmmakers that his idea was to tire out MJ and that he wished he had guarded him sooner before the SuperSonics went down 3-0 in the series. Payton said that his physical defense got to Jordan.
In an effective move, the filmmakers showed Jordan watching Payton's comments. MJ gave a look of disbelief, then a hilarious, earnest laugh to dismiss what Payton stated. Jordan then said:
 "The Glove. I had no problem with The Glove. I had no problem with Gary Payton."
Payton recently appeared in a B/R AMA session and revealed his thoughts on Michael Jordan laughing at him in 'The Last Dance':
"It's like this to me. He wouldn't be Michael Jordan if he would have bowed down there. Everybody knows about his competitiveness. He was a guy who came every night to play. I respect him for that because I came every night to play. I was never gonna back down to him and he knew that. If it was my documentary and they asked me the same thing I would have laughed too and been like "no he couldn't go at me neither."
Every night I played Michael Jordan he brought the best out of me. Wish I could have started off on him in the championship and it would have been better, but their team was better than mine at the time and they won it all. He did a documentary, he felt the way he felt. What I can do is I can say the same thing hahaha."
'The Last Dance' spent a lot of time registering Jordan's competitive nature and occasional ruthlessness. The documentary also covers how Michael Jordan took any slight to motivate himself. Before the 1996 Finals, MJ said that he was fueled by SuperSonics head coach George Karl ignoring him when he said hi to him in a restaurant.
The Bulls went on to win the 1996 NBA Finals in six games. Michael Jordan averaged 27.3 points, 5.3 rebounds and 4.2 assists in 42.0 minutes, shooting 41.5 percent from the field. MJ was named NBA Finals MVP.
The filmmakers of 'The Last Dance' also showed Jordan a video of Isiah Thomas explaining how he regrets that some of his Pistons teammates walked off the floor without shaking the Bulls' hands in Game 4 of the 1991 Eastern Conference Finals.
Jordan, who had final word on all subject matters in 'The Last Dance,' completely dismissed Thomas' explanations, he even said that it was all bullshit before watching what Thomas had to say. MJ then added: "you can show me anything you want, there's no way you can convince me he wasn't an asshole."
This obviously shows that MJ truly hates Thomas and those Pistons teams, though he later played with Dennis Rodman, John Salley and James Edwards.
Leave a comment