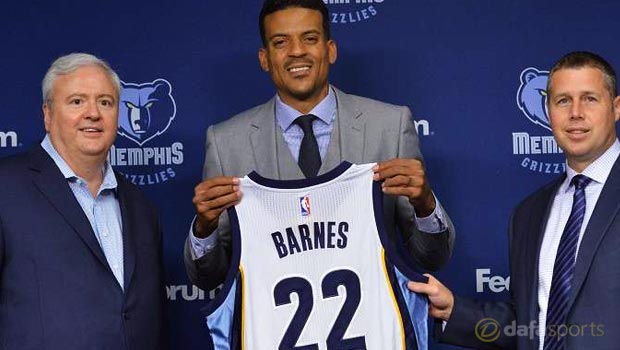 Matt Barnes believes he is well suited to the gritty style favoured by his new team the Memphis Grizzlies.
After being traded to the Charlotte Hornets last month, the 35-year-old was again traded 10 days later, this time to the Grizzlies who had originally picked him in the 2002 draft.
He never played for Memphis though, immediately joining Cleveland in a draft night swap before being cut shortly after.
Barnes has since played for eight different franchises all over the NBA, with arguably his best form coming in his recent three-year stint at the LA Clippers.
However, while he has been a consistent player within the league for the last decade or so, the small forward has often had to alter his style to adapt to his more flamboyant team-mates.
Following his return to Tennessee, Barnes believes he has now found the perfect match and says he is ready to perform for a team and a city that he feels suites him both on and off the court.
"This is a whole – not just team but city – with my ideal, a grind mentality," he said at a press conference. "I've been on teams that run-and-gun and dunk and shoot a lot of 3's, but I've never been on a team that everyone has the same mind-set I do.
"That's very exciting from a player's standpoint."
The Grizzlies reached the Western Conference semi-finals last year, going out to eventual champions the Golden State Warriors in the last eight.
Memphis are currently 29.00 to take the title, while the Warriors are the third favourites to retain their crown at 6.00, behind the Cleveland Cavaliers and the San Antonio Spurs who are priced at 3.75 and 4.75 respectively.
Leave a comment