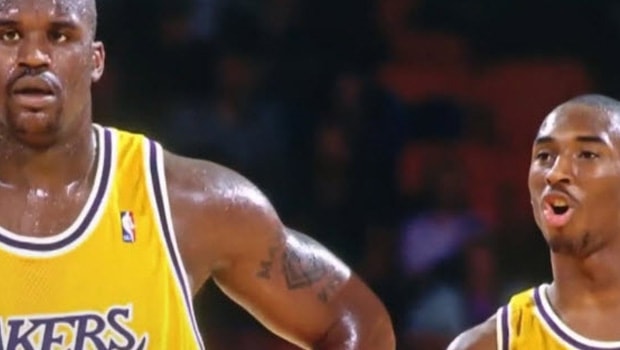 The first three championships that the Lakers won under Phil Jackson were in a three-peat with Shaquille O'Neal and Kobe Bryant leading the way. O'Neal arrived to Los Angeles in 1996 and in 1999 he was still after his first NBA championship. The Lakers won the first of those championships in 2000 and Jeff Pearlman's book Three-Ring Circus: Kobe, Shaq, Phil, and the Crazy Years of the Lakers Dynasty shares the inside story of the team in that time period.
In Pearlman's book, he mentions a moment that changed everything for the Lakers in the year 2000. The Lakers traded Eddie Jones and Elden Campbell to the Hornets for Glen Rice in 1998. Rice made a name for himself as one of the best small forwards in the NBA way before that, as he had six productive seasons with the Heat to start his career but he reached a different level in his three seasons with the Hornets, playing in three straight NBA All-Star games.
The Bulls, led by Michael Jordan, were a huge roadblock for those Hornets teams but the Lakers thought that his time in Charlotte prepared him to be third-best player for them behind Shaquille O'Neal and Kobe Bryant. Rice helped Shaq and Kobe carry the scoring load for two years and he won an NBA Championship in 2000.
Rice only played two seasons with the Lakers, averaging 17.5 points in his first year and 15.9 in his second when they won the NBA Championship. This NBA legend play 1,000 games in his career but many forget his brief time with the Lakers.
The Lakers hosted the Jazz, three days after the Spurs crushed them 105-81, with Rice scoring just five points. "The Laker Recession of 2000 continues," Tim Kawakami of the Los Angeles Times wrote. Led by Karl Malone and John Stockton, the Jazz had beaten the Lakers 105-101 in double overtime a week and a half earlier and they came to STAPLES Center with the Lakers at rock bottom: "Jackson wasn't happy with Bryant. Bryant wasn't happy with O'Neal. Nobody was happy with the one-foot-out-the-door Rice." Pearlman wrote in his book.
"We were at our bottom," Rick Fox recalled. Fox, who won three NBA championships with the Lakers, played with the team from 1997 to 2004, averaging 8.7 points, 3.7 rebounds and 2.9 assists in 26.2 minutes over 486 games. "Sometimes, in the course of a season, you wonder if maybe this just isn't going to work. That's where we were," Fox explained.
The Lakers ended crushing the Jazz 113-67 and it was the turning point for their season. "We pretty much did what we had to do, and we came out with a lot of energy," Shaquille O'Neal said after the game. "We kind of needed this game."
Leave a comment