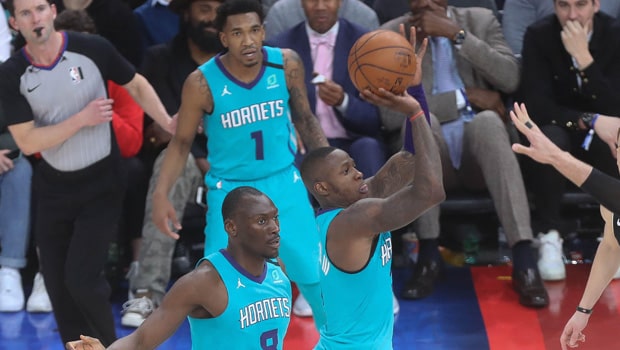 Michael Jordan, widely seen as the best basketball player of all-time, is the current owner of the Hornets, where point guard Terry Rozier signed as a free agent to replace Kemba Walker ahead of the 2019-20 season. Rozier is having a solid campaign in his second year at Charlotte, averaging 20.4 points, 4.0 rebounds and 3.4 assists in 33.6 minutes over 29 games.
Rozier explained what it is like to have Jordan as a mentor: "Man, it's been great," he said during a recent interview with ESPN. "I remember the first time sitting down with him in Vegas at lunch. He was just telling me how he believes in me. Hearing that from MJ, that's different than anybody else."
"He gave me that confidence right away when I first stepped on to Charlotte," Rozier added. "He is a great boss, a great mentor. I am pretty sure he keeps in touch with all of us. But with me, I can hit him at any time. He's going to challenge me and I am just glad to have him as a contact, just to talk to. Because he's the guy who is always going to challenge me and keep me on edge."
MJ played 15 seasons in the NBA with the Bulls and Wizards, winning six NBA championships and achieving other numerous accolades.
Jordan retired for three seasons before coming back to the league in 2001 as a member of the Wizards for two years. He is a member of the Basketball Hall of Fame.
Two-time NBA champion and 1981 NBA Finals MVP Cedric Maxwell told Eduardo Solano from FOX Sports Radio 1340 AM Hopewell and AccuScore in May what it was like to play against a young Michael Jordan.
"Michael was young and the rosters he played on were not even remotely close to what most people remember from his six championships. We all knew some kid named Michael Jordan was going to be a high impact player but very few people actually knew just how game-changing he'd become," Maxwell explained.
"Michael Jordan's drive to be the best helped him overcome many obstacles in his career. Jordan kept coming at his opponents until he won. He always used the frustration and anger to become stronger," Solano wrote.
Leave a comment