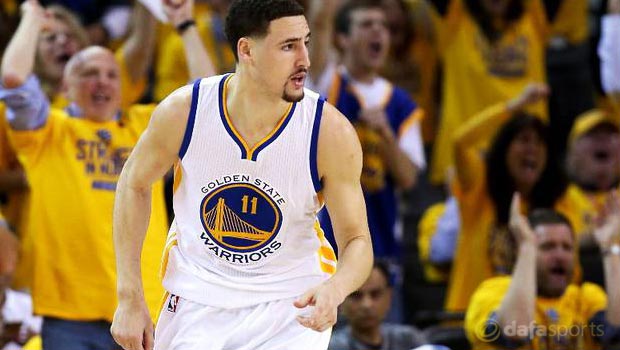 Golden State Warriors coach Steve Kerr is confident that all-star guard Klay Thompson will be fit for Game One of the NBA Finals against the Cleveland Cavaliers on Thursday.
The 25-year-old suffered concussion during his side's victory over Houston in the Western Conference finals last Wednesday when he received a knee to the head from Rockets forward Trevor Ariza.
Team doctors initially cleared the Los Angeles native to continue playing, but he did nor re-emerge for the rest of the match and developed concussion-like symptoms after the game concluded.
The injury has forced the guard to sit out back-to-back practice sessions ahead of the start of the finals against the Cavaliers and he will not be cleared to play until the NBA is satisfied that he is symptom free.
Despite this Kerr remains convinced that his all-star will be fit for the first match of the best of seven series that begins at the Oracle Arena.
He said: "I'm anticipating he's going to be there."
The 49-year-old coach has admitted that he is not concerned about the lack of practice time that Thompson has had in recent days, believing that his laid back personality will make it easy for him to return to competitive action.
He continued: "Klay's disposition never changes. He's always just mellow and he just sort of takes it all in stride. It's good that we have this break, because he has the time to go through what he needs to get through."
The Warriors take on a Cavaliers side that are fresh from their 4-0 series victory over the Atlanta Hawks in the Western Conference finals and who will be turning to the inspiration of LeBron James during the show-piece series.
Leave a comment