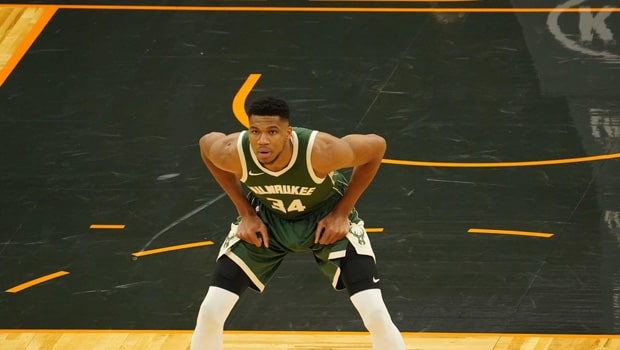 "I started playing basketball just to help my family, try to get them out of the struggle. The challenges we were facing when we were kids, but I never thought I'm gonna be 26 years old with my team in the NBA Finals," Giannis reflected on his journey.
Giannis Antetokounmpo is the first player in NBA history to win Most Improved Player, MVP, Defensive Player of the Year and NBA Finals MVP and he did it all by the age of 26.
"I'm like, 'Kobe Bryant thinks I can do this?' … I had to do it." Giannis on Kobe challenging him to win MVP and an NBA Championship.
On August 24, 2017, Giannis wanted Kobe to challenge him: "Still waiting for my challenge.. @kobebryant"
Kobe replied on August 27 by tweeting: "MVP"
Once Giannis delivered Kobe said on June 24, 2019: "My man….M.V.P. Greatness. Next up: Championship. #MambaMentality"
Kobe Bryant is possibly one of the greatest NBA players of all-time and the greatest Laker ever. Two jersey numbers in the rafters at the STAPLES Center prove it. Kobe was able to take over games in ways that not many players could.
His drive to win at any cost helped him succeed on and off the court. An 18-time NBA All-Star, five-time NBA champion and one-time NBA MVP, Kobe tragically passed away on January 26, 2020. Kobe's game was influenced by Michael Jordan, he never denied it.
Eduardo Solano, from FOX Sports Radio 1340 AM Hopewell and AccuScore, wrote this about Kobe Bryant last year:
"I've always been a Chicago Bulls fan but I followed Kobe Bryant's entire career! Kobe is one of my favorite athletes of all-time and I still can't process that he is gone."
"I could go to a super team … but this is the hard way to do it, and we did it. We f—ing did it," Giannis on signing his supermax to stay in Milwaukee. Kobe clearly influenced Giannis and he will continue to represent everything great about sports.
Leave a comment