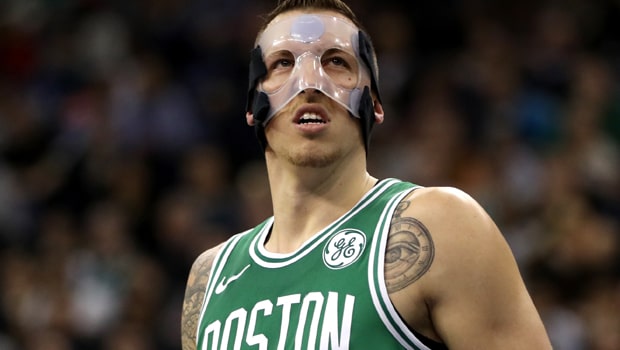 Daniel Theis enjoyed his first start of the season and delivered a career-high 22 points and 10 rebounds as the Boston Celtics routed the Chicago Bulls 133-77. It was a record-breaking clash for both franchises.
Boston recorded their biggest-ever win, eclipsing their 51-point win over the Philadelphia Warriors in 1962, while the Bulls suffered their heaviest loss in NBA history, with the 56-point reverse three worse than a defeat to Minnesota in November 2001.
Celtics forward Theis was on the court for the first time this season and the 26-year-old German relished being back as Boston stretched their winning streak to five games.
"I was real excited [to start]," said Theis.
"I'm just trying to help the team however I can. It's been a while since I've played that long, but I feel great."
The Bulls are 1-2 under new coach Jim Boylen, who replaced Fred Hoiberg as head coach last week.
Boylen has not made any secret of his plans to be a more confrontational and intense taskmaster on the sidelines, compared with Hoiberg – who was considered a players' coach.
The Bulls players reportedly held a two-hour meeting on Sunday instead of taking part in a scheduled practice.
Zach LaVine said he and his team-mates wanted an explanation from Boylen regarding some of media comments about their conditioning.
"We understand what he says in the media, and you can take it good or bad," he said.
"But I think the main thing is how we're going to respond to it."
Leave a comment