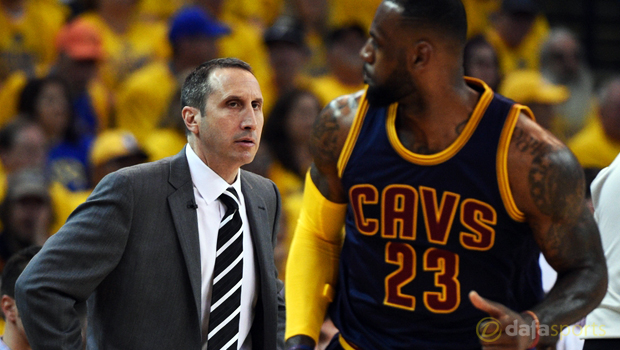 Cleveland Cavaliers small forward LeBron James admits he was surprised by the sacking of coach David Blatt, but insists he had no influence over the decision.
Blatt was relieved of his duties with the Cavaliers sitting top of the Eastern conference, and it was the first time in the history of the league that a conference leader had fired their coach mid-way through a season.
The 56-year-old was replaced at the Quicken Loans Arena by Tyronn Lue and James for one admits that he had not been expecting the coaching shake up, despite reports suggesting he had influenced the decision.
James said: "For me, I can't get caught up and worried about what other people are thinking. I stopped doing that a long time ago in my career. … The only thing I can worry about is how I can get these guys better prepared and we can play better basketball."
James has been friends with Lue for his entire professional career, but the 31-year-old insists their relationship will be purely professional during their time together in Ohio.
He continued: "We've been friends since I was 17 years old, but at the end of the day, he's still the coach and I'm underneath him. He will coach me and push me, and I'll listen to everything he has to say and go from there. Don't try to make it a story of why me and Coach Lue are so tight."
Cleveland lost their first match under Lue 96-83 against the Chicago Bulls on Saturday, but they remain top of the conference standings heading into Monday's clash with the Minnesota Timberwolves.
The Cavaliers are available at 1.06 to win the match at the Quicken Loans Arena, whilst the Timberwolves are on offer at 9.00.
Leave a comment