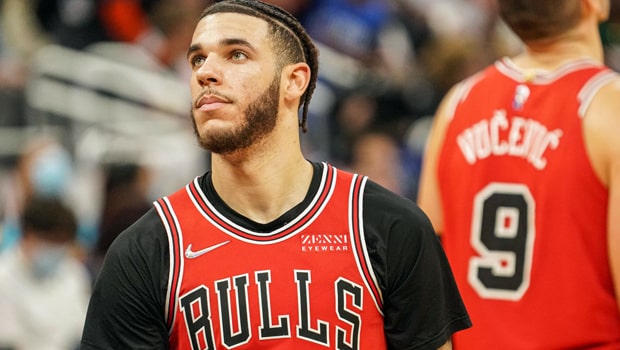 Chicago Bulls vice president Arturas Karnisovas knows that fans are eager to know what's going on with star point guard Lonzo Ball, so he laid the facts down early to avoid an entire season of speculations about Ball's health and future. Karnisovas was clear, the Bulls don't expect Ball to return next season. Instead, Ball will focus on his recovery from a baffling knee injury that forced him to undergo three surgeries in less than two years.
Ball has been out since January 2022 when he injured his knee in a game against the Golden State Warriors. Since then, the talented guard has undergone one surgery after another, including a unique cartilage transplant last April. According to Karnisovas, the Bulls do not expect Ball to play anytime soon.
"Going into the offseason, I think our expectation is that he's not coming back next season," Karnisovas explained after the NBA Draft last Thursday. "And he's going to continue on his recovery. If he comes back, it would be great. But we're just going to treat this offseason and getting ready for the season that he's not going to be back next season."
With any knee injury, healing and therapy are critical, and Karnisovas said this week that Ball has already discarded his crutches and is taking it one day at a time.
"He's recovering nicely," Karnisovas added. "I think last month he got off the crutches, and he's recovering and doing his rehab. Everything is going well."
How Ball helped the Bulls
With Ball likely to miss a second straight season, the Bulls must address their need for a starting point guard or continue to struggle at the position due to a lack of playmaking and consistency.
Ball has been in the NBA for five years, and he's played at least 60 games in a season just once. The former UCLA star averaged 13 points, 5.4 rebounds, 5.1 assists, and 1.8 steals in 34.6 minutes over 35 games with the Bulls in the 2021-22 season. He finished with 57.5 percent true shooting and 42.3 percent from beyond the arc, both career-bests, before going down with a meniscus tear in his left knee.
In 2021-22, the Bulls went 22-13 with Ball in the lineup and 24-23 without him. Per StatMuse, Ball posted a defensive rating of 111 in 35 career games with the Bulls.
Leave a comment