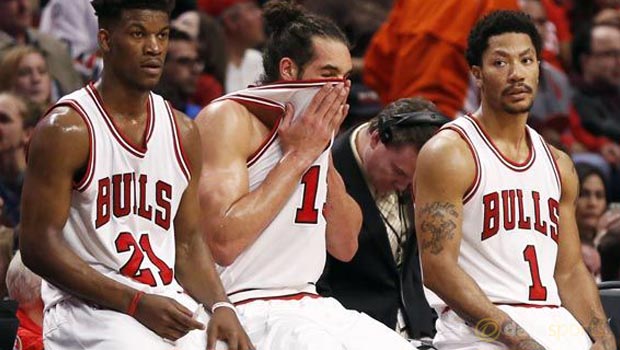 Chicago Bulls ace Derrick Rose accepts that his team need to turn up the pressure on LeBron James when they face the Cleveland Cavaliers in the second round of the NBA play-offs.
The Bulls needed six games to get by the Milwaukee Bucks in round one, while the second-seeded Cavaliers swept aside the Boston Celtics 4-0 to enhance their reputation as one of the powerhouses of the Eastern Conference.
And Rose is well aware of the nature of the main threat that the Cavs possess, with James having racked up 30, 31 and 27 points respectively in the final three games against the Celtics.
He said: "(We've) just got to make it hard on him. I'm not going to sit here and say we've got the game plan to stop him, but you know that he's going to bring it.
"He's going to come out and play hard. He's won championships, so you got to give it to him. He's a hell of a player.
"So when we play against him, we just got to make it tough, nothing easy for him."
The Bulls have won five of their previous six play-off series against Cleveland, but the last time the two sides met in post-season, in 2010, the Cavaliers won 4-1, with James scoring 40 points in Game 2 and 39 and 37 points respectively in the following two encounters.
James left Cleveland after that season to join the Miami Heat and helped the Florida franchise become NBA champions in both 2012 and 2013.
Over in the Western Conference, the top-seeded Golden State Warriors start their semi-final series against the Memphis Grizzlies, having swept aside the New Orleans Pelicans 4-0 in round one.
The Warriors are 1.17 to make a winning start against the Grizzlies, who are 4.75 to secure a shock victory.
Leave a comment