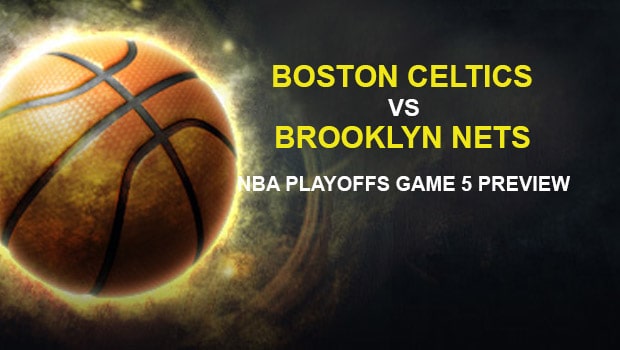 The Boston Celtics try to keep their season alive when they visit the Brooklyn Nets in Game 5 of their best-of-seven series on Tuesday. The Nets were unstoppable on offense in the first two games of the series before Jayson Tatum carried the Celtics to a 125-119 home win in Game 3. Brooklyn then cruised to a 141-126 win in Game 4, with Kevin Durant (42 points), Kyrie Irving (39 points) and James Harden (23 points) tying the NBA Playoffs record for points scored by three teammates (104).
A lot has been said about the Brooklyn defense but you have to understand that their offense is their defense. The Nets manipulate the flow and pace of a game with their offensive tempo and the Celtics have to keep up. Whoever plays them ends up not playing defense and the Celtics are without Jaylen Brown (plus-3.5 Offensive Box Plus/Minus) for the rest of the season, which clearly doesn't help.
The Nets' system is set up so they run the opposing team out the gym. They turn games into a shootout with the hopes that they will score more efficiently than their opponent. The downfall is that the other team's scorers (Jayson Tatum and Kemba Walker) can get hot. That's what happened in Game 3, with Tatum going off for 50 points, seven assists and six rebounds on 16 of 30 shooting and 5 of 11 from beyond the arc.
Still, the Nets rather than beat you 100-87, they want to beat you 141-126, just like they did in Game 4. The Celtics got 40 points from Tatum and five of his teammates scored in double figures but not having Jaylen Brown and Kemba Walker (plus-2.5 Offensive Box Plus/Minus) and Robert Williams (plus-3.0 Offensive Box Plus/Minus, plus-3.1 Defensive Box Plus/Minus) proved to be too much to overcome. Game 5 will take place on Tuesday at 7:30 PM ET at Barclays Center in Brooklyn.
Dafabet Picks
Team to Win (Regular Time)
• Boston Celtics: 6.72
• Brooklyn Nets: 1.13
Spread
• Boston Celtics: +11.5 (1.94)
• Brooklyn Nets: -11.5 (1.87)
Total
• Over 231.5 (1.90)
• Under 231.5 (1.91)
Key Points to Consider
The Over is 9-2 in Boston's last 11 games following an ATS loss, 8-2 in Boston's last 10 games following a straight up loss, 4-1 in Brooklyn's last five games overall and 8-3 in Brooklyn's last 11 games as a home favorite and 7-3 in Brooklyn's last 10 home games.
Projected Leaders
For the Celtics, Jayson Tatum is projected to finish with 28.3 points, 7.7 rebounds and 3.0 assists, making 10.5 field goals in 23.9 attempts.
For the Nets, Kyrie Irving is expected to score 21.2 points with 4.8 rebounds and 3.9 assists, making 7.8 field goals in 14.0 attempts.
Analyst's Pick
The Over.
Four-star (out of four) AccuScore hot trend pick on the total in this one. Average score in simulations is Brooklyn Nets 119.6 to Boston Celtics 112.6.
Make sure to check all other MLB, NFL, NCAA, NHL, NBA and soccer game predictions from AccuScore.
Leave a comment