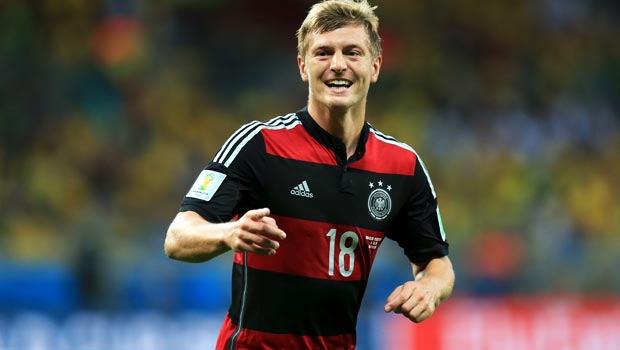 Germany midfielder Toni Kroos insists the squad must not allow Tuesday's 7-1 victory over Brazil to play on their minds as they still need one more win to claim their fourth World Cup.
Joachim Low's side humiliated the hosts in Belo Horizonte and were gifted chance after chance by a team missing some key players.
Kroos helped himself to a brace along with substitute Andre Schurrle, while Thomas Muller, Miroslav Klose and Sami Khedira all added their names to the scoresheet.
Germany, who are priced at 1.67 to win the World Cup, have been one of the more consistent sides at this summer's tournament and Kroos believes they are gathering pace as they prepare for a final showdown with either Holland or Argentina.
However, the Bayern Munich man, who has been linked with a move to Real Madrid, insists it would be wrong to believe the trophy is already theirs and has urged the squad to remain calm.
Kroos said: "We're aware of the great game that we've had but as I said after [Germany beat Portugal 4-0 in their opening game] we are here to be champions and we still have a very difficult match ahead.
"It's difficult. The team is well aware of the desire to be champions and no one has been champion in the semi-final. I'm convinced we will play a great final."
The 24-year-old admitted that following Tuesday's victory the squad tried to keep celebrations to a minimum with the World Cup final in mind.
He added: "The atmosphere in the dressing room was obviously very good, but we still have a game to win."
Leave a comment