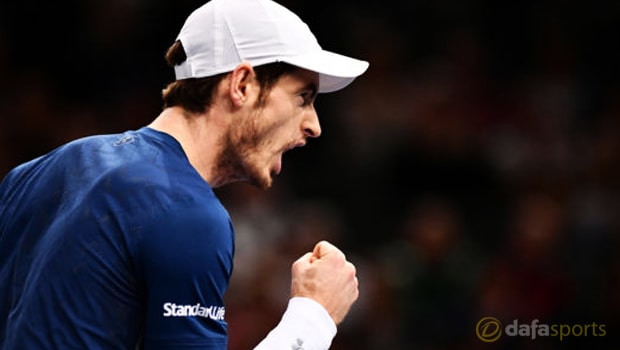 Andy Murray will replace Novak Djokovic as world number one when the rankings are released on Monday.
The Scot faces John Isner in the final of the Paris Masters on Sunday knowing he has reached the summit of the rankings table for the first time in his career.
Murray becomes the 26th man to hold top spot since computerised rankings began in 1973, and he is the first British player to achieve the feat.
Murray needed only victory over Milos Raonic in the last-four in Paris to leapfrog Djokovic after he was beaten by defeat in the quarters by Marin Cilic.
Raonic was forced to pull out of the semi-final however, having torn a quad muscle in his right leg. Murray won his second Wimbledon title this summer before also doubling up on Olympic gold in Rio.
He has reached the final in 11 of his last 12 tournaments and has already surpassed a career-high tally of wins in a calendar year with 73.
The 29-year-old says it is a proud moment as he ends the 122-week reign of Djokovic in top spot. "I never thought I'd be number one in the world," he told BBC Sport.
"It's been many years of work to get here. It's been such a difficult thing to do because of how good the guys around me have been."
Given the stellar form of the Serbian in the early months of 2016, Murray feels it is particularly rewarding to land top spot now.
"The year that Novak has had, barring the last six weeks or so, has been incredible," he added. "The year I've had to have to barely get there has been unbelievably difficult.
I've had to work extremely hard." Murray is 3.10 to win the 2017 Australian Open, while Djokovic is 2.00.
Leave a comment