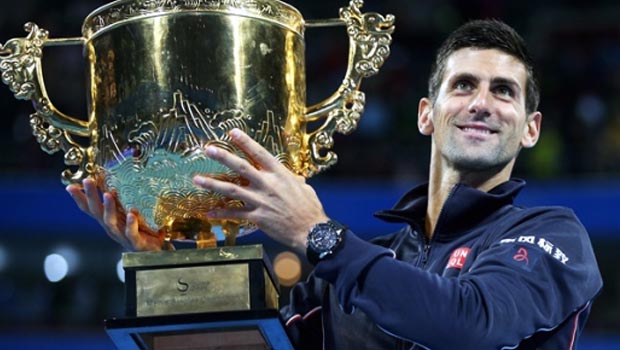 World number one Novak Djokovic has secured his fifth China Open title after destroying Tomas Berdych 6-0 6-2.
It took the 27-year old Serbian just 66 minutes to secure the victory, in which he never looked like he would be troubled let alone lose, extending his run to 24 matches unbeaten in the China Open.
Djokovic's opponent Berdych, who won the same title in 2011, had no complaints following the comprehensive defeat and admitted he was no match for the Serb.
"I met somebody in the final who I've never seen before. Really the way that he performed today was really outstanding," said the Czech.
"I have probably played maybe over 600 matches in my career, and met guys like Andre Agassi, Roger Federer, all those probably in their best times, but I have never, ever experienced anything like that."
Having lost the opening set to love, Berdych surrendered the first game of the second without scoring a point after a double fault.
With the score at 0-5 in the second set he offered his racquet to a ballboy in an admittance of defeat from the 29-year-old.
However, the world number seven did then survive match point before winning consecutive games to avoid becoming the first man to lose 6-0
6-0 in the final of an ATP event. It was only a matter of time though before Djokovic sealed his fifth title of 2014 and the 46th of his career.
"It was probably my best performance in all the finals in my career.
It was incredible, incredible," Djokovic said.
"It was 6-0 5-0 in under an hour. Everything I tried worked. To be proud of the performance is the least I can say of how I played."
Leave a comment