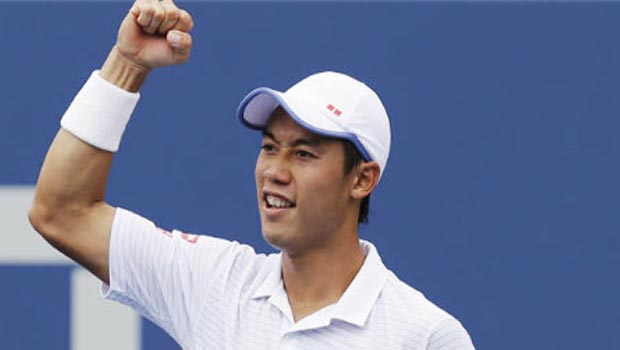 Kei Nishikori will meet top seed Novak Djokovic in the US Open semi-final after coming through a second straight, gruelling five-set match to beat Stan Wawrinka at Flushing Meadows.
Nishikori, the tenth seed, fought fatigue and the reigning Australian Open champion to became the first Japanese man to make a semi-final of the United States championships in almost 100 years and the country's first Grand Slam semi-finalist since 1933.
For the second time in three days, the 24-year-old came through a five-setter, outlasting the world number three Wawrinka, 3-6, 7-5, 7-6 (7), 6-7 (5), 6-4 to reach the last four where he will meet Andy Murray's conqueror – Djokovic.
"I don't know how I finished that game," said Nishikori, who was on court over four hours just two days after his fourth round clash with Milos Raonic finished at 2:26 a.m. "But I'm very happy."
Mats Wilander and Philipp Kohlschreiber, the two men who previously won matches at 2:26 in the morning, in 1993 and 2012, both failed to win a single set in their next round.
But Nishikori, who was done few favours by tournament officials by being put in the afternoon session on Wednesday, showed few signs of fatigue.
"That was a little bit tough because I never had that experience," Nishikori said of the late finish. "But always, you know, good to win after 2:30 a.m.
Wawrinka was impressed by the endurance shown by Nishikori, who is coached by the 1989 French Open winner Michael Chang.
"Even at the beginning he looks like he's going to die on the court, but he's there," Wawrinka said. "Physically, he's there. Even at the end of the match, even. We were both quite tired in the fifth set."
Djokovic, who beat Murray in four sets on Wednesday night, remains the favourite to regain his crown after losing in the final for the past two years.
The Serb is 1.53 in the US Open Winner betting with The Field available at 2.51.
Leave a comment