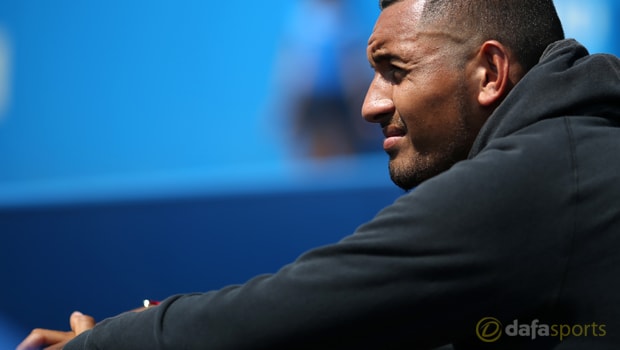 Former French Open finalist Henri Leconte has backed Nick Kyrgios to win a Grand Slam title during his career, but he insists the Australian must work hard and leave his on-court antics behind him.
World number 21 Kyrgios has never been too far away from controversy during his career and that came to a head once again this week when he pulled out of his first-round match at the Shanghai Masters against Steve Johnson after losing the first-set tie break.
The 22-year-old was subsequently fined his first-round prize money, as well as an additional £7,500, and the incident came just days after he had performed so well to reach the final of the China Open.
Kyrgios has certainly faced criticism for his antics, but former world number five Leconte still believes the talented Aussie can win a major title at some stage of his career, but he must work really hard over the coming years.
"From what I've been reading, Kyrgios has said that he is happy to play tennis and wants to give his best," Leconte told Sky Sports.
"If he were to train really hard for one or two years, he has the potential to win a Grand Slam, for sure."
Leconte has also urged Kyrgios to realise how privileged he is to play professional tennis before it is too late.
The Frenchman added: "Enjoy life. You are very fortunate to play tennis. You are very fortunate to be there. You are very fortunate for everything.
Enjoy it, train hard and try at least one or two years – hard.
"Practice everyday, get ready, try, because one day you will wake up and it will be too late."
Kyrgios has twice reached the quarter-finals of a Grand Slam and he is priced at 23.00 to emerge victorious at the 2018 Australian Open in January.
Leave a comment