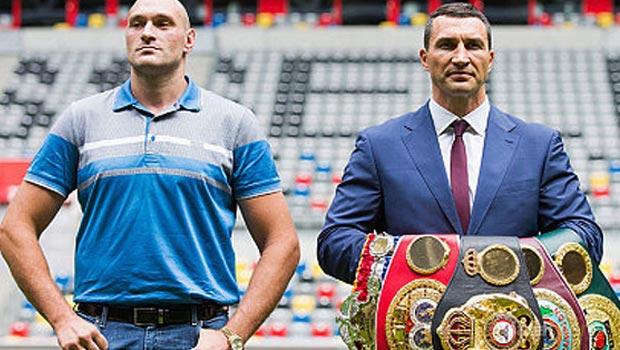 Heavyweight champion Wladimir Klitschko insists he is ready for the challenge of taking on Tyson Fury in Dusseldorf in October.
Fury and Klitschko will lock horns in Germany as the Brit looks to retain his undefeated status against the dominant force in the division.
The Ukrainian is set to put his IBF, WBO and IBO titles on the line and insists that he is ready to silence the loud-mouthed Mancunian.
The challenger has already started the war of words and claimed that he is ready to give Klitschko a "free face transplant".
Klitschko, who often refuses to get involved in the verbal battle, has once again kept his distance, although he believes he can see off Fury much like he did with fellow Brit David Haye.
Haye took on the 39-year-old in Hamburg in 2011 and picked up a victory on a unanimous points decision as he deflected anything Haye threw his way.
Dr Steelhammer claims that he helped Haye to become a better person by putting him through what he calls 'therapy', and has promised to do the same to Fury.
Klitschko said: "Tyson Fury is 26 and he says things and does things that he is going to regret.
"But I see it as therapy. David Haye was one of them and I told people I was going to change David Haye into a better person after the defeat
– and that is exactly what happened.
"I am really proud of my performance and proud of David, that he became a better person.
"And I think with Tyson it is going to be pretty much the same therapy.
"You can call me as a therapist and I think it's going to work well. I also think this fight is going to be tremendously challenging for me."
Leave a comment