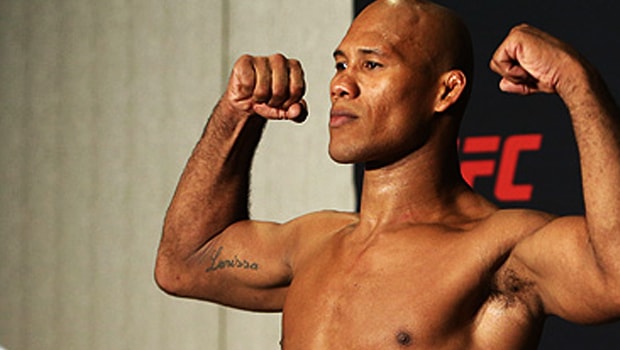 Ronaldo 'Jacare' Souza says he is desperate to fight for the middleweight title but accepts it may be a while until he gets an opportunity.
The Brazilian has been carving out a strong reputation for himself since joining the UFC in 2013, winning seven of his eight trips to the octagon.
'Jacare' claimed his latest triumph on Saturday as he saw off Tim Boetsch via submission in the first round of their match in New York.
The 37-year-old is currently ranked fourth in the middleweight division as he looks to earn his first chance to battle it out for a UFC world title.
Yoel Romero, the only man to have beaten Souza in the UFC, sits second and as the main contender to take on champion Michael Bisping, while American Luke Rockhold is third.
Lancashire-born Bisping is still recovering from knee surgery and not expected back until May or June when he will likely face Romero.
Souza could potentially be handed the chance to take on the winner of that matchup but he is not keen on waiting around and wants to get another fight in to fill his time.
"I want to fight the champion, but if that's going to take a while, I prefer to take another fight because I don't want to sit around. I wasn't born to sit around.
So I'll take another fight if it's going to take too long to get a title shot," Souza said.
Romero is the only person to have handed a loss to Souza in the UFC and the veteran Brazilin insists he would be happy to take on his Cuban counterpart.
He added: "Yes, of course that's an option, that's a fight I want,. I've never lost a rematch, and with Romero, it's not going to be any different. I'll prove I didn't lose to him. I lost to the judges."
Leave a comment