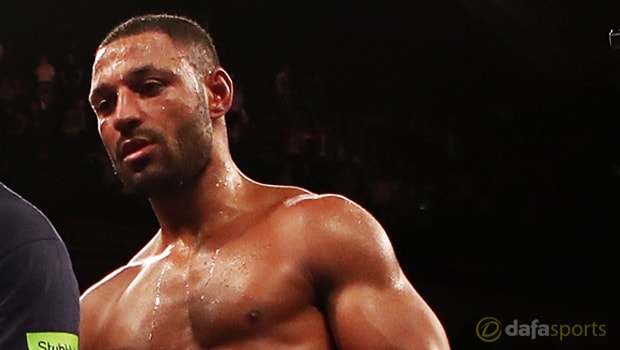 Kell Brook has confirmed his intention to fight at welterweight level, with the likes of Manny Pacquiao and Errol Spence being mooted as potential opponents during 2017.
The Sheffield-born fighter made the step up to middleweight level for his fight with Gennady Golovkin in September, but he will now return to the welterweight division for his next bout and put his IBF title on the line.
The 30-year-old's mandatory challenger is America's Spence but Brook is keen to contest a unification bout, with WBO champion Pacquiao high on his wish-list.
"I had a meeting with Eddie Hearn on Wednesday and told him I am not prepared to give up my title," Brook said. "I know there are options at 154lbs and I may even be more suited there, but I am not willing to give up what I fought so hard for.
"I want the unification fights but if they aren't there then it will be Spence next for me in a big UK show."
An all-British showdown with Amir Khan is also potentially on the cards for Brook, with promoter Eddie Hearn confirming that he expects the 'Special One' to enjoy a big year during 2017.
"I spoke through various options with Kell and he was adamant that he would not relinquish his welterweight world title," said Hearn.
"In an ideal world, he would unify the division against Manny Pacquiao, but the Spence fight is also one that really excites him and fight fans.
"That could be a big fight here in the UK and with the 75-25 split in place, we would be very confident of bringing that fight to Sheffield."
Leave a comment