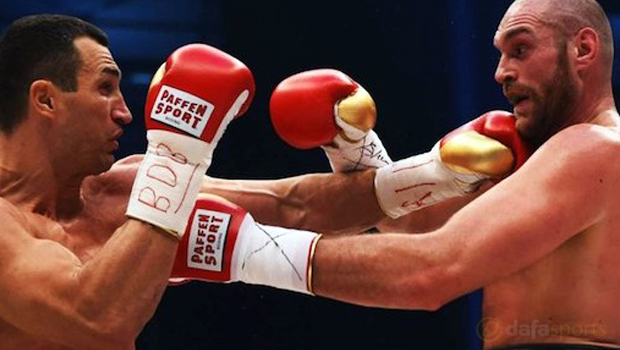 New heavyweight world champion Tyson Fury insists Wladimir Klitschko has no chance of beating him in a rematch.
The Ukrainian fighter has the option to take on the self-styled 'Gypsy King' again after losing on Saturday night in Dusseldorf.
Fury took Klitschko's WBA, IBF and WBO belts via a unanimous points decision in Germany in a fight that did not flatter the-then champion.
It remains to be seen if the two men will take the ring together, with Fury claiming Klitschko would suffer another defeat at his hands.
The 27-year-old told Sky Sports: "I think you have seen 65% of what I am capable of. That wasn't as good as I can do. I can go up another level.
"If he had 10 years to train, the result would be the same next time. I think he will take the rematch, but who knows when he gets home and has time to think about it.
"It doesn't really matter to me where I fight. Japan, Turkey, Azerbaijan, America – wherever it has to be. I'd like to come back to Germany again to fight Wlad. I enjoyed it here and I got a great reception from the German fans."
Meanwhile, Klitschko's brother, Vitali, 44 and also a former heavyweight world champion, claimed it had simply been a bad night at the office for his 39-year-old sibling.
"I know how good Wladimir is and Wladimir did not show how good he is," said Vitali. "I know his strengths but I couldn't see any of it."
Leave a comment