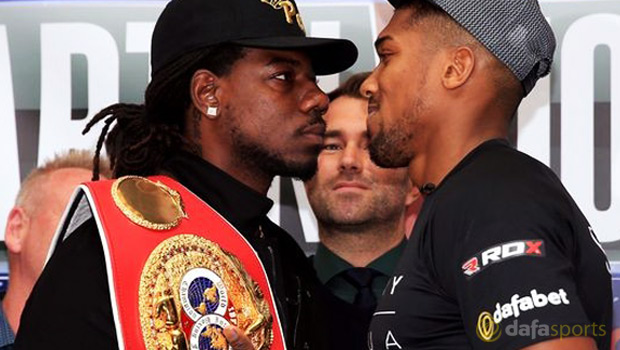 Charles Martin believes his superior movement around the ring will be the key to beating Anthony Joshua on Saturday.
The pair meet at London's O2 Arena for the IBF heavyweight belt Martin won in January after Vyacheslav Glazkov went down with a knee injury in the third round.
His next task is to beat Joshua, a man who has seemed destined to conquer the world having continually progressed since claiming Olympic gold in 2012.
The 26-year-old is yet to find an opponent who has been able to take him the distance in his 16 professional fights, with the seven rounds he went with Dillian Whyte in December the furthest he has gone.
Martin looks like he could be a cut above Joshua's previous rivals and the southpaw is certainly not lacking confidence heading into the bout.
Despite the 29-year-old's optimism he is currently 4.50 underdog, with the draw 29.00 and Joshua the comfortable 1.20 favourite.
However, unlike the Brit's previous opponents, the American appears to have better footwork and will be looking to try and neutralise Joshua's power by tiring him out in the early rounds.
Martin believes his movement around the ring will cause Joshua plenty of problems, especially as he thinks his opponent's only noteworthy attribute is his power.
"Pit-pat, prod-prod," Martin told the Daily Mail. "Your boy's so awkward. Can't really box because he can't move. Yeah he's a big bloke but if he bends his knee once in our fight I'll be real impressed.
"Yeah, Joshua does have power but that's all he's got. When that doesn't work there's nowhere else to go. And how's he going to land on me? I'm so…. elusive."
Leave a comment