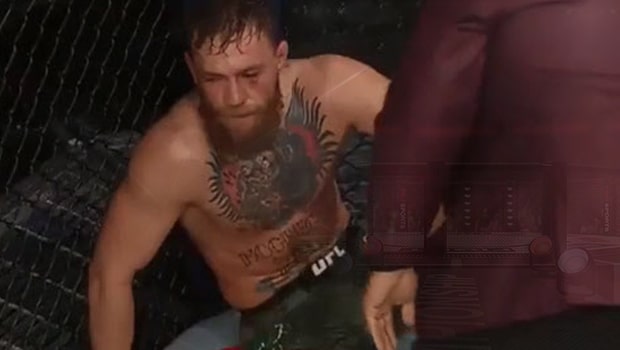 Khabib Nurmagomedov successfully defended his UFC Lightweight Championship although ugly scenes marred his victory over Conor McGregor at UFC 229.
Russian star Khabib was the dominant force for the majority of the contest in Las Vegas and he claimed the victory after executing a rear-naked choke that prompted McGregor into a submission with one minute and 57 seconds of the fourth round still remaining.
However, once Khabib secured the victory he taunted McGregor before exiting the ring and attacking members of the Irishman's entourage.
This prompted a melee that led to McGregor being punched by one of Khabib's training partners while he was still recovering in the octagon.
Khabib was then escorted from the arena to a chorus of boos, while three members of his team were arrested before being subsequently released without charge.
The 30-year-old wasn't even presented with his belt after the fight, with UFC president Dana White confirming they did not feel it was appropriate following the altercations.
"I know if we put the belt on him [Nurmagomedov] in the octagon there'll be things thrown," said White.
"I just said let's just try and get him out of here."
Khabib has now extended his unbeaten record to 27 wins from 27 professional fights, while McGregor, who was competing for the first time since his boxing defeat to Floyd Mayweather Jr in 2017, must now dust himself down following the fourth loss of his MMA career.
Leave a comment