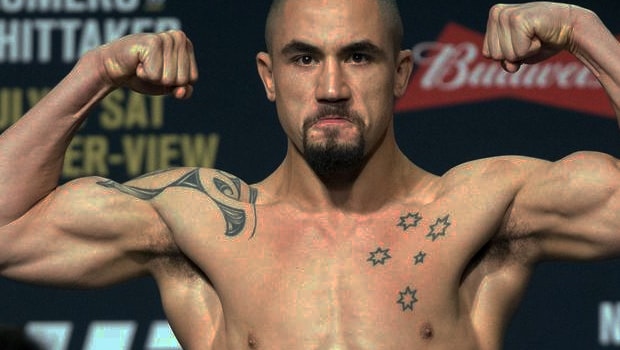 Robert Whittaker has vowed to crush middleweight champion Michael Bisping but admits he may not be able to fight again this year following his victory over Yoel Romero.
The New Zealander continued to enhance his reputation in the UFC after claiming the interim middleweight belt courtesy of a unanimous decision in Las Vegas.
Whittaker has now triumphed in 10 of his 12 fights since winning a UFC contract, and Saturday's success made it eight in a row.
However, the win came at a price as Whittaker reinjured his knee in the first round and admits he is unlikely to step into the octagon this year following two big fights against Romero and Ronaldo Souza.
Whittaker said: "It would be hard – I need a few months just to get over my injuries.
"I didn't let my body rest very well after the Jacare fight and now I've had a five-round war with Yoel Romero, so I need to make sure I look after my body now."
Whittaker has now earned a shot at Bisping, who launched a foul-mouthed tirade at him after Saturday's bout, for the middleweight title and believes he can break the Brit.
"My job was to win that interim belt and I did that; nothing he could say can take that away from me," he added.
"I worked hard for that and I'm the No.1 contender and we're going to fight soon enough.
"I have a lot of respect for him – he knows that – but when we get in that octagon and we touch gloves, I'm going to break him.
"I've fought two of the most-dangerous people on the planet recently, back-to- back. My focus is there, my mental strength is there and I have everything to crush him (Bisping)."
Leave a comment