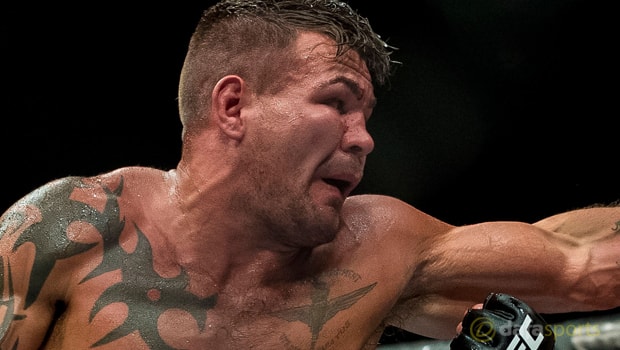 Jack Marshman's scheduled welterweight bout with Brad Scott at UFC London on Saturday has been called off due to issues surrounding his weight cut.
Welsh fighter Marshman had been looking to fight at welterweight level for the first time, having previously competed in the middleweight division, but it appears he has failed to shred the required weight.
Englishman Scott was also dropping down in weight having fought in the middleweight division over recent times although, unlike Marshman, he had previously competed as a welterweight.
Marshman's manager, Graham Boylan, confirmed the fight, that had been scheduled to take place at London's O2 Arena, has now been called off, although he is hoping it can be rescheduled sooner rather than later.
Boylan told MMA Fighting's Peter Carroll: "As with all athletes the weight cut is something that can go wrong no matter how experienced you are in this game.
"Hopefully we can get this fight rescheduled ASAP. He's not the first and he won't be the last. These things happen all we can do is learn from it. Jack would like to send his apologies to Brad and the fans."
UFC London will still go ahead despite the cancellation of the all-British contest, with the heavyweight showdown between Fabrício Werdum and Alexander Volkov expected to take centre stage.
Former UFC Heavyweight Champion Werdum has been tipped by many to win that bout, although Russian ace Volkov has claimed glory in his last five fights.
Leave a comment