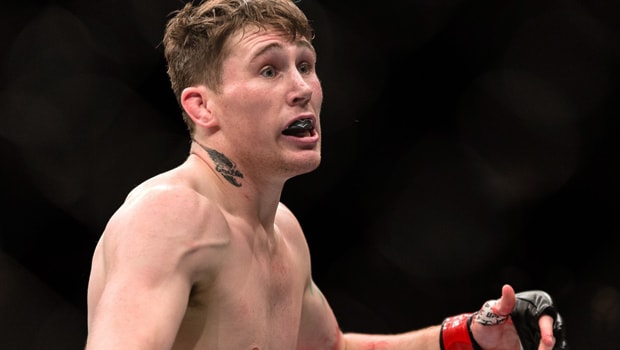 Welterweight Darren Till insists he is in no rush to ask for a title shot despite making a huge statement with his knockout of Donald Cerrone on Saturday.
The Liverpudlian picked up the performance of the night award for his demolition of veteran Cerrone in Gdansk, Poland.
Till came out on the front foot and displayed incredible power as he claimed a stoppage four minutes and 20 seconds into the fight.
The 24-year-old, who spent over a year and a half out of action due to an injury between 2015 and 2017, is looking to fire himself up the rankings in the UFC.
However, he insists he is no rush to start demanding a shot at Tyron Woodley's belt just yet and is more than happy to fight his way to the top. Till said: "There's so many more guys in front of me.
"They need the shot first, and then when I get my shot, I'll just take the champion out. But I'm certainly closer. I'll ask for the title shot when I take the No. 2 guy out."
The undefeated Muay Thai specialist exchanged verbals with number 15 ranked Mike Perry after Saturday's win but he has played down the chances of them meeting soon.
He added: "I didn't call him out. (Perry) said 'Cowboy' was going to beat me on Twitter, and I said he wouldn't.
I was, in my mind, going to call out Mike Perry. But he got the fight booked with Santiago Ponzinibbio, who I want to fight as well. So I don't really care about (Perry) now.
"The fight can happen if he beats Santiago, which I don't think he will do, and then we can get it on. But he has a fight right now, so I don't really care."
Leave a comment