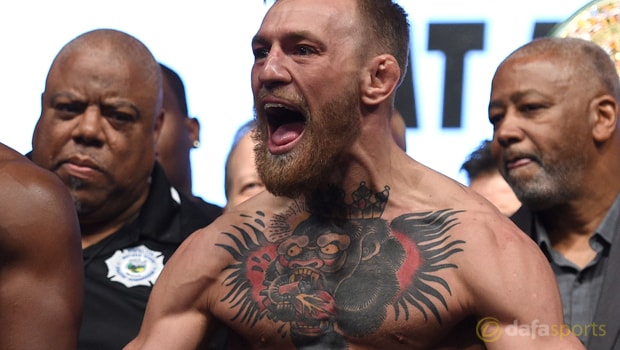 Conor McGregor has confirmed he has no plans to retire and he will return to either boxing or mixed martial arts in the near future.
The Irishman's last competitive bout of any kind was his boxing defeat to Floyd Mayweather Jr in August, while he has not competed in UFC since claiming the lightweight championship by beating Eddie Alvarez in November 2016.
Despite his long absence from the octagon, McGregor is still the reigning lightweight champion, although Tony Ferguson is currently holding the title on an interim basis.
UFC president Dana White has recently claimed that a bout between McGregor and Ferguson will have to take place, although the former still has boxing options, with Manny Pacquiao reportedly showing an interest in a potential showdown.
McGregor himself is yet to make a decision on his next fight but says he has no plans to retire while he is still in the prime of his career.
"I always look at the end from a damage-taken standpoint," McGregor told Sky Sports News.
"How much damage have I taken? How is my brain? How is my mental health? How is my physical body? How is my training? How is my preparation? How is my hunger for it? "That is where I gauge how long I will do it and there is still a lot left in me."
The 29-year-old has also confirmed that money is not a motivation for his career and he is instead determined to keep fighting for his love of the profession.
"It is a dangerous, ruthless business and I am aware of that," he added.
"Thankfully I am in a position of great wealth. I do not need to do it. I am doing it for the love of it."
Leave a comment