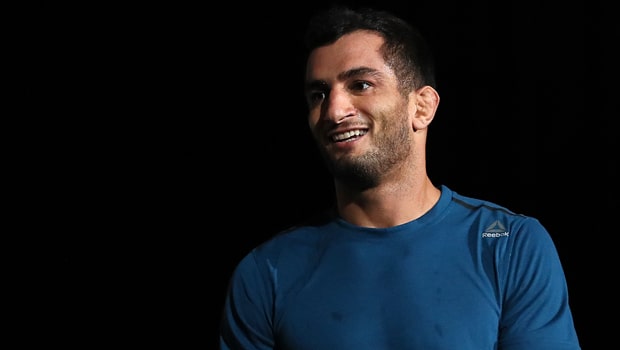 Gegard Mousasi made a successful defence of his Bellator Middleweight Championship after stopping Rory MacDonald in the second round of their fight on Saturday.
Reigning welterweight titleholder MacDonald made the step up in weight for the showpiece fight at Bellator 206, but the difference in size was clear to see as Mousasi, who is a former titleholder at light heavyweight level, quickly took control of the fight.
The Iranian didn't have to wait long to wrap up the victory, as he claimed a technical knockout success three minutes and 23 seconds into the second round.
The 33-year-old, who has now won 45 of his 53 MMA fights with 26 of those successes coming via knockout, admitted after his latest win that he controlled the fight from the very off and he made sure he played to his own strengths.
"I knew I had better standup, the reach advantage, speed advantage," Mousasi said.
"So my goal was to keep it in the standup, make him panic and go for the takedown."
Mousasi also felt the fight was exactly what he needed as he has now won eight successive bouts since his last defeat to Uriah Hall in September 2015.
"I had hurt him a little bit already," Mousasi added. "And it was perfect, this was the fight I needed."
MacDonald, by contrast, will have to head back to the drawing board, as he has now lost three of his last five fights, with two of those defeats coming via technical knockout.
Leave a comment