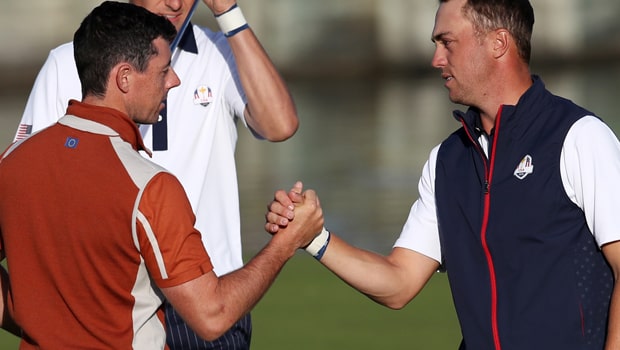 Both Justin Thomas and Rory McIlroy admit the new look Tour Championship will take some getting used to as they get set for the PGA Tour season finale in Atlanta.
Changes to the final event in the FedEx Cup event mean that all 30 players in the field at East Lake have a chance to win the jackpot by landing the Tour Championship. Previously, only the top-five in the standings entering East Lake were in that position.
There is a catch, however, as a handicap system is in place ahead of the start of the event, meaning that Thomas starts on 10-under par with Patrick Cantlay (second) on eight-under par and the remaining 28 players staggered down to level par. It is all new for Thomas as leader and he admits it might take some time to adapt.
"There isn't a person on the planet that has experienced this before, for the stakes that it's for, and I'm just going to try to deal with it the best that I can," said Thomas. "It's the first year of it and obviously we changed it because we thought it was for the better. Like anything you don't really know.
"I'm going to try not to pay attention to the leaderboard. I know this course suits my game, and I have been playing well, so if I can keep doing what I am doing, I should be okay." McIlroy, starting from five-under par, feels it could help make the final round a crescendo with multiple potential FedEx Cup winners.
"I'm starting five back. We are all creatures of habit so it feels very different that you are starting at a different position than the rest of the field, but at the same time, you have to control what you can and hopefully you play four good rounds of golf and end up with the lowest score," he said.
"By Sunday, I can see a situation where maybe 15 guys might have a chance to win the entire thing. "It will be exciting and it will be different, but at the same time you just have to go out and play good golf and not look around at what other guys are doing."
Thomas is favourite at 3.10 to win the Tour Championship under its new format, while McIlroy 9.00 and Cantlay is 5.50.
Leave a comment