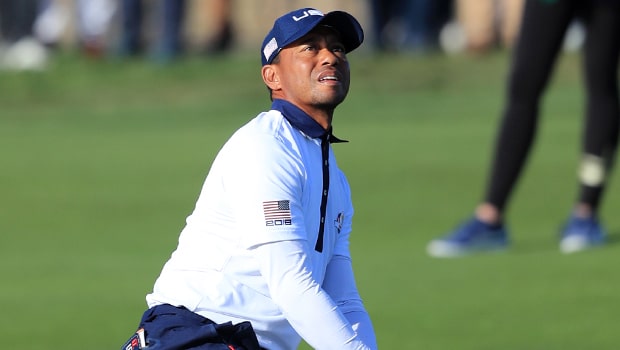 Tiger Woods admits he remains determined to overtake Jack Nicklaus' record of 18 major wins before he calls it a day at the top level.
The 43-year-old has 15 majors to his name after claiming his fifth Masters at Augusta in April, with the victory coming 11 years after he last tasted glory in one of the big four tournaments – the 2008 US Open.
Woods is currently gearing up for another tilt at the US Open and insists he still has plenty of time to usurp Nicklaus. "Hypothetically if I give myself another 10 years, that's 40 majors," Woods said on Tuesday.
"The trick is can I keep myself healthy and strong enough considering what my body has been through? "That's where I need help with all my trainers and physios and workout regimes, and hopefully I can make that happen.
"This week I feel like I'm trending in the right direction. I need one more day of prep. I want to see the golf course when it's a little bit closer to game time."
Woods' career was derailed a few years ago due to off-course personal problems and fitness issues, but his Masters display proved he still has what it takes to rival the likes of Rory McIlroy, Dustin Johnson and Brooks Koepka.
If he is to lift the US Open this year, Woods will need to stop 9.50 chance Koepka from winning the tournament for the third time in a row. However, McIlroy and Johnson are the joint 9.00 pre-tournament favourites, while Woods is 12.00 to be top of the leaderboard at Pebble Beach on Sunday afternoon.
Leave a comment