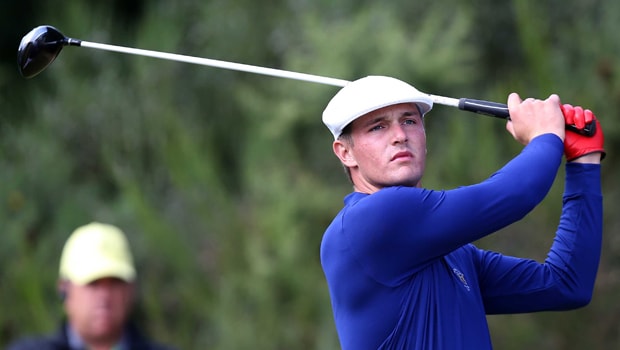 Bryson DeChambeau is the latest winner of a PGA Tour after scoring a seven-under 65 to win the Rocket Mortage Classic.
This is his first win in 18 months and within the time, he has put on over 40lbs of weight. He finished three shots ahead of fellow American, Matthew Wolff, who finished under 71. DeChambeau also earned his career best score of 23-under 256.
The Rocket Mortgage Classic happened on the fourth weekend of golf resuming in the United States and DeChambeau was active throughout the tournament. He started the Sunday behind Wolff who enjoyed a three-shot lead from the previous night.
Unfortunately, he was not able to go far with it as he started his day with a bogey causing him to slip, while DeChambeau was able to edge forward after making two birdies in the first three holes.
Going forward, Wolff was unable to turn his fate around as he kept on making blunders. DeChambeau proved early that the title was his by shooting more birdies. At last, Wolff was able to gain control of himself, but he could not do anything to stop DeChambeau who was now racing towards the end. DeChambeau finished the game with a birdie, a perfect way to crown a tournament.
The win marks DeChambeau's seventh consecutive top-10 spot and also sixth PGA Tour title. It has also moved his position in the Ryder Cup leaderboard up to the fourth spot. The last time he won a PGA Tour title was in 2018.
Speaking after the game, he made mention of how his new weight contributed to his success. He said, "It's a little emotional for me. Because I did do something a little different, I changed my body, I changed my mindset in the game and was able to accomplish a win while playing a completely different style of golf. I've shown people that there's another way to do it." DeChambeau also broke a record by being the first PGA Tour player to lead the tournament in driving distance, since 2004.
Coming right behind Wolff at 3rd position is Kevin Kisner, finishing at 18-under, while Danny Willett and Tyrrell Hatton share a final score of 16-under.
Leave a comment