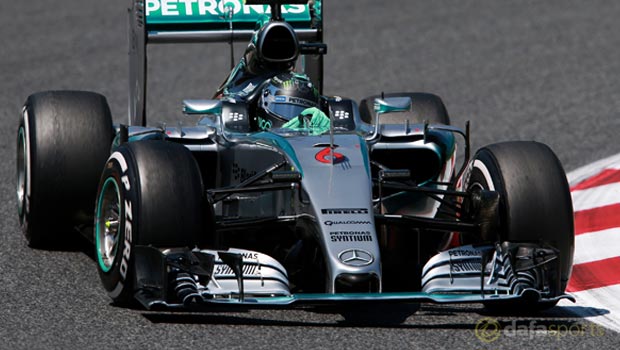 Nico Rosberg ended Mercedes' team-mate Lewis Hamilton's bid for a fifth successive pole position ahead of Sunday's Spanish Grand Prix and claimed it was a "step in the right direction to winning the race".
The 29-year-old German has endured a disappointing start to the 2015 Formula One campaign as he sits 33 points behind reigning world champion Hamilton in the current drivers' standings, while Ferrari's Sebastian Vettel sits one point behind him.
Rosberg has had to settle for two second-placed finishes and two third places so far, while Hamilton has taken three from four to date.
However things finally went his way at the Circuit de Catalunya as his time of 1:24.681 was 0.267s faster than Hamilton's 1:24.948 lap to leave him leading from the front going into Sunday afternoon's race.
"I needed it sooner rather than for later that is for sure. It is one step in the right direction to winning the race this weekend and it was a good day in the office for sure," Rosberg said.
Hamilton admitted that he was off the pace in qualifying, but he is still confident of coming out on top in the race as he looks to pull further clear in the standings.
He said: "Nico did a great job today and I don't know if I really had the balance where I liked it. But I did my best and tomorrow there is still a lot to play for."
Vettel is third on the grid in his Ferrari ahead of Williams' Valtteri Bottas , with Carlos Sainz an impressive fifth for Toro Rosso ahead of team-mate Max Verstappen.
Kimi Raikkonen's frustrating start continued as he had to settle for seventh place on the grid as Red Bull duo Daniil Kvyat and Daniel Ricciardo came either side of Williams' Felipe Massa respectively to make up the top 10.
Leave a comment