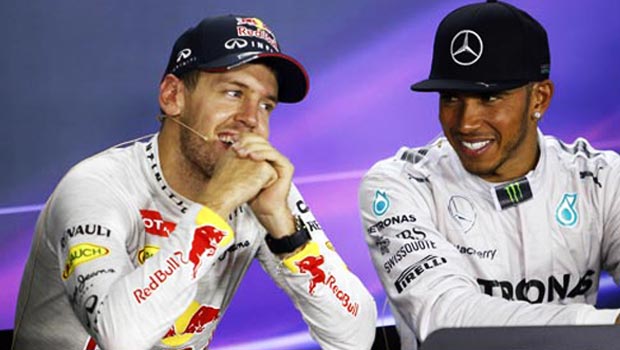 Lewis Hamilton took the lead for the first time in four months in the drivers' standings but then insisted he was not thinking about winning the 2014 Formula 1 World Championship.
The British driver ended Sebastian Vettel's hopes of a four-timer on the street circuit in Singapore when claiming his first success at the same Asian venue since 2009 and opening up a three-point gap over Mercedes team-mate Nico Rosberg at the top of the leaderboard.
"I'm not really thinking about it. I feel like I'm still hunting, still catching up," said Hamilton, when asked about his chances of winning a second world title.
"I'm not sitting here thinking I'm relieved because all year I've had that gap and I've had to be catching it up and then it's gone again. I know what could happen," he added.
Title rival and Mercedes team-mate Rosberg retired with electronics problems to slip behind with five races to go and 150 points still available, while it was also the second consecutive race in which Hamilton has won from pole.
Hamilton briefly lost the lead to Red Bull's Vettel at his final pit stop but soon swept past him to take his seventh win and the German held on for second after a battle with Daniel Ricciardo and Ferrari's Fernando Alonso.
Hamilton shrugged off suggestions he now has the momentum to win his first world drivers' title since 2008 and insisted he would not be getting carried away.
"Maybe it's the start. But momentum is not something I generally think about because it can be snatched straight away," he said. "Look at Nico, he has had good results and momentum from that but one DNF and it changes things. You don't know what's coming up.
"I'm happy that I'm back to being at my best, getting those poles, maximising those races.
"I want to make sure these next five races, if I don't do any more races in my whole life as good, these next five have to be the ones."
Formula 1 heads to Suzuka next for the 2014 Japanese Grand Prix and the 2007 race winner Hamilton is currently priced 1.53 in the world drivers' championship outright betting.
Leave a comment