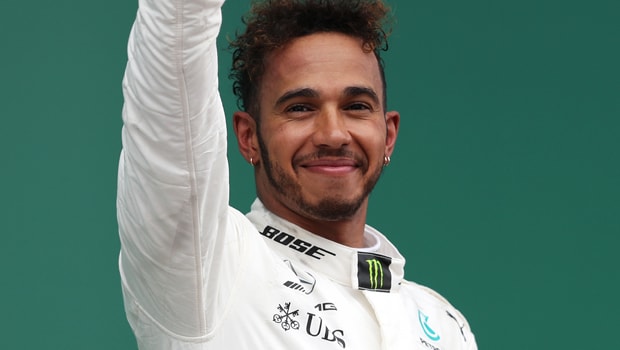 Lewis Hamilton claims rival Sebastian Vettel's crash which handed him victory in the German Grand Prix on Sunday was a "crucial point" in the 2018 Formula 1 title race.
The 33-year-old reigning champion looked like he would slip further behind Vettel in the drivers' championship after problems with his Mercedes in qualifying left him down in 14th position on the grid at the start of the race in Hockenheim.
Hamilton had battled his way up to fifth place, but Vettel seemed on course to cruise to victory in his home race as he remained out in front in his Ferrari.
However, Vettel was caught short by a rain shower and lost control of his car as he entered the hairpin on lap 51 to rule him out of the race.
Hamilton seized his opportunity with both hands to take the chequered flag with Silver Arrows team-mate Valtteri Bottas taking second place.
The Briton also escaped with a reprimand from the stewards following an investigation after the race for cutting the pit-lane entry line and sits 17 points clear of Vettel in the standings, while Mercedes are eight points clear of Ferrari in the constructors' championship.
Afterwards, Hamilton said: "The mistake from Sebastian today has been a benefit to us at Mercedes.
"I've never had a race like this. After racing for so many years, you never know when you're going to have a better race than your best race.
"But this is right there with them." On vettel's crash, he added: "I guess it is [a crucial point in the title race]. There have been several crucial points already this year."
Hamilton is now 6/10 to win the F1 Drivers Championship outright, while Vettel is priced at 5/4.
Leave a comment