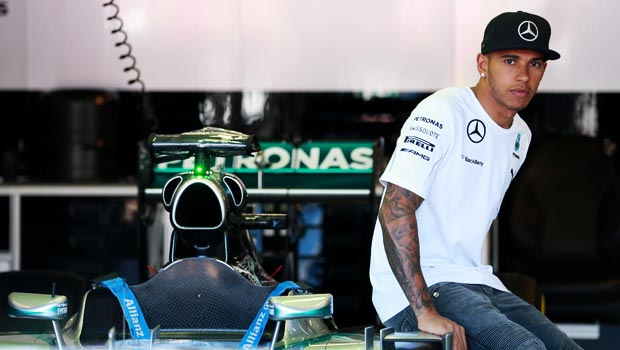 Lewis Hamilton has revealed his determination to secure only his second British Grand Prix win at Silverstone on July 6 as he also looks to reduce the deficit to Mercedes team-mate Nico Rosberg at the top of the leader-board.
It has been six years since the 29-year-old won his one-and-only home race in front of a jubilant Silverstone crowd and Hamilton feels this year offers him the best opportunity to repeat that feat.
The former McLaren driver went on to win the World Drivers' Championship that year in 2008 and he feels another chequered flag next month could be crucial if he is going to claim another title ahead of Rosberg who sits 29 points ahead of him in the current standings.
Hamilton had to settle for second spot in Austria last weekend as Rosberg came out on top and having picked up an unusual runner-up trophy as reward.
He is not concerned with what trophy he might collect at Silverstone as long as he is stood at the top of the podium after a first-place finish.
He said: "Silverstone has a good one [winner's trophy], but they don't give it out. You use it and then you give it back.
"But at the end of the day it really doesn't matter what it looks like, so long as it has 'First' on it.
"It could be an old tin can, or a Coca-Cola can with 'First' on it, it really would not matter.
"For Silverstone I cannot really explain how special it would be to win there again. It has been a long time since I did, but when I did it was just unbelievable.
"In 2007 (his debut year) being on pole, that was just such a unique experience.
"You really feel like everyone is with you, like you are doing it together, which is really a strange feeling.
"Then when I won in 2008 (in the wet), coming through the chicane where people were aquaplaning and going off, I could see the crowds getting up and cheering."
He added: "I am really confident I can do it this year. I have the car so there is no reason – and Nico's not the reason – why we should not be able to do it.
"It's coming at the right time. I have had a couple of dodgy races, so I need to get it back to how it should be."
Hamilton is 2.10 to win the World Drivers' Championship, while Rosberg is 1.73.
Leave a comment