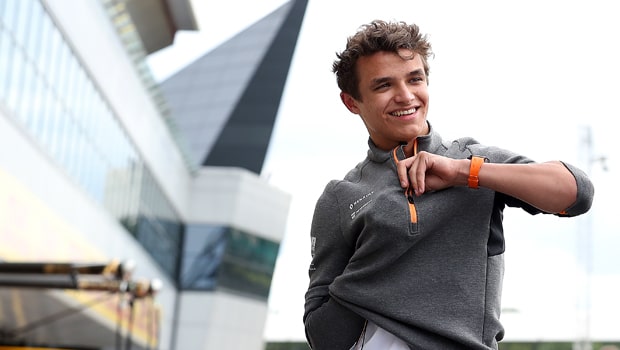 Formula 1 rookie Lando Norris wants to see world champion Lewis Hamilton prolong his career so he can take aim at his championship.
The McLaren youngster has made a fine start to his career in F1, though Hamilton and Mercedes have enjoyed a dominant season so far. The champ is on course for world title number six, while numerous records are now within his grasp.
The world champion's current contract at Mercedes expires at the end of next season and Norris feels McLaren remain at least two years away from being realistic challengers. Hamilton has spoken of his desire to keep racing beyond next season and Norris wants him to be around when things get competitive.
"That's something I would like, to be able to fight against Lewis," Norris told Sky Sports. "A five-time world champion, possibly six this year. "But it's a good two years before we're having a chance to fight them.
"I'm sure he's probably going to stick around especially when he's got chances of winning championships and making history. It's something I would look forward to, being able to race him." Norris has twice qualified in the top six this season, while he is currently ninth in the drivers' standings.
It has been an impressive debut season so far from the British teenager and Hamilton praised him last weekend at their home race in Silverstone. "Lando's progression is incredibly impressive," said Hamilton.
"To be so young in such an early phase, he's coming in and keeping a level head and delivering on weekends, also up against a driver who's got more experience than him."
Leave a comment