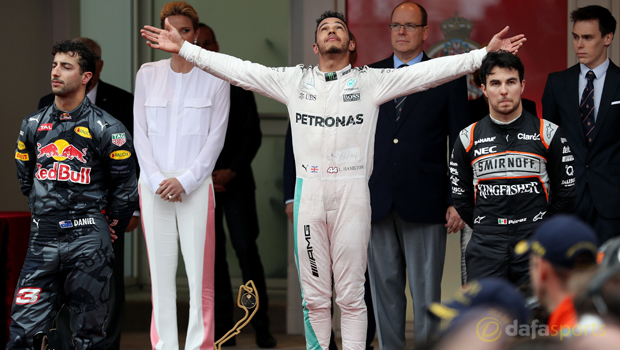 Lewis Hamilton says the title race is now well and truly on between himself and Nico Rosberg following his victory in Monaco on Sunday.
The Brit has struggled with reliability issues so far in 2016 and had to watch on as his Mercedes team-mate won the opening four races of the year.
However, after the pair crashed into each other last time out in Spain, the world champion finally claimed his first victory of the season in the principality following a tussle with Red Bull's Daniel Ricciardo.
In contrast, having won the last three Monaco GPs, Rosberg could only manage seventh and the gap between the duo is now down to 24 points.
Hamilton has traditionally had the upper hand between the two Silver Arrows drivers and will now be eyeing a second win of the season next time out in Canada, a race he has previously won on four occasions during his career, including 12 months ago.
On the other side of the coin, his team-mate now has questions to answer following his recent blip and he too will be targeting a successful weekend next month in Montreal.
Sunday's result seems to have reignited the title race and the world champion has stoked the fires by admitting that their rivalry is now back on. "We are in the battle," he said.
"There is still a long, long way to go but just when you feel it cannot get any worse, it gets better."
Following Sunday's win, Hamilton is now priced at 2.05 to win a third straight Drivers' Championship with Rosberg still leading the way at 1.80.
Leave a comment