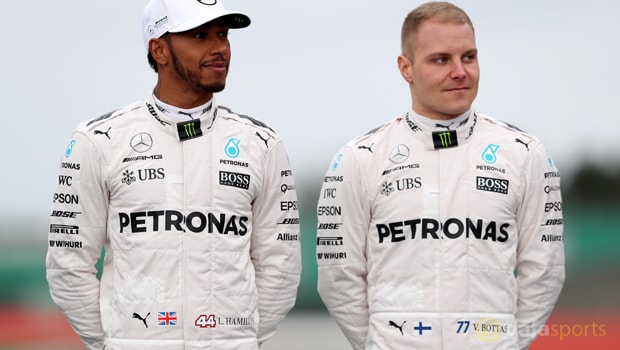 Valtteri Bottas admits his relationship with Mercedes team-mate Lewis Hamilton could get "tricky" if his form continues over the coming months.
The Finn claimed his maiden Grand Prix victory on Sunday in Russia and, following some solid performances over the opening weeks of the campaign, his triumph seems to have justified the Silver Arrows' faith after signing him from Williams.
Despite his success, he remains third in the standings and is 9.50 to win the title, with Hamilton 2.60 and Championship leader, Ferrari's Sebastian Vettel, the 1.80 favourite.
Hamilton was quick to congratulate his colleague in Sochi but it remains to be seen how long the ongoing calm at Brackley will last.
History shows that the Brit has a habit of falling out with his team-mates when he feels any danger that they might hamper his own chances.
The triple-world champion's rows with Fernando Alonso and Nico Rosberg have become legendary and, despite still being behind him in the standings, Bottas is wary that his performances could eventually start to upset the 32-year-old.
Bottas said: "He congratulated me. It's very, very nice of him to be very professional about everything so far.
He's been in front of me. He's done a great job. I think we're working well as a team.
"It's going to be a long year with a lot of fighting with all these cars.
"At some point things might get a bit more tricky on track – and if and when it comes to the championship fight, it might be less talking and more fighting on track."
Leave a comment