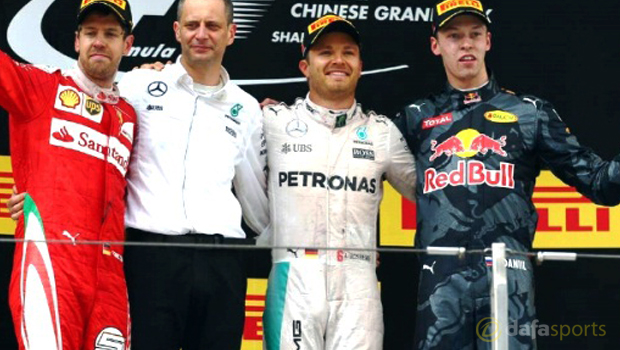 Mercedes' Nico Rosberg has extended his lead at the top of the Drivers' Championship standings to 36 points after claiming his third straight victory of 2016 at the Chinese Grand Prix.
The German finished 38 seconds ahead of the rest of the field, with Ferrari's Sebastian Vettel claiming second place and Daniil Kvyat of Red Bull third, in what was an incident packed race at the Shanghai International Circuit.
The drama began on the very first lap as Vettel crashed into team-mate Kimi Raikkonen, with the German blaming Kvyat for instigating the incident.
At the end of the race Vettel said: "Massive apologies to the team.
But surely I didn't do it on purpose. I'm really sorry for Kimi. There was nothing I could do, Kvyat came like a torpedo and I had to react.
There was no way out."
That collision enabled Rosberg to cement his lead and it also stopped his Mercedes' team-mate Lewis Hamilton, who was starting at the back of the grid, from mounting a serious challenge, as he sustained a broken front wing during the opening lap.
The reigning world champion eventually finished seventh in the race to remain in second position in the overall standings and he is now keen to move on from what was a disappointing week in Shanghai.
Hamilton said: "After that I battled through, but I just felt like every time I stopped I had to come through again, I wasn't gaining ground and at the end there wasn't enough tyres. That's racing but it's not a great finish. Hopefully onwards and upwards."
The season will now move to Europe with the next race on the calendar being the Russian Grand Prix on May 1.
Leave a comment