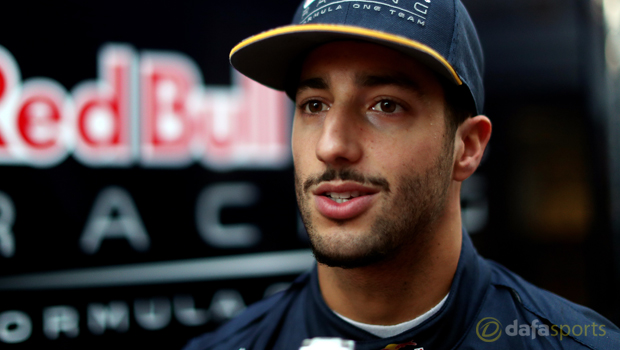 Daniel Ricciardo believes Red Bull can compete at the upcoming British Grand Prix, while admitting he believes Nico Rosberg was right to be penalised last weekend.
Ricciardo has secured just one podium finish so far this season as he came home second at the Monaco Grand Prix.
The Australian has not taken a chequered flag since he claimed victory at the Belgian Grand Prix in 2014 but he is hoping to put that right sooner rather than later.
Ricciardo is staying optimistic over his team's chances as they look to put some more points on the board next weekend in England.
The 27-year-old was forced to retire at Silverstone last year but has fond memories of the British track having taken third place in 2014.
Ricciardo said: "Yeah absolutely, the way the cars been working this year we should be pretty competitive at Silverstone. "We got a podium a couple of years ago here.
I think we can be close; I think it's going to be really close with Ferrari. "I'm excited, it's a circuit I really enjoy, I'm looking forward to it."
The Red Bull driver had to settle for fifth place last weekend as Lewis Hamilton and Rosberg, who is priced at 2.63 to win the Drivers' Championship, clashed in Austria.
The Mercedes duo were involved in an incident on the final lap and the stewards deemed it to be the Germans fault, which subsequently led to him being handed a penalty, something that Ricciardo agreed with.
He added: "As a driver you know where the limit is, sure you can squeeze someone a bit but at some point you've got to give them that little bit of room.
"Obviously the stewards thought he [Rosberg] didn't leave Lewis with really much choice, so I guess thats why they gave him the penalty. "It was a tight one, I see their point of view."
Leave a comment