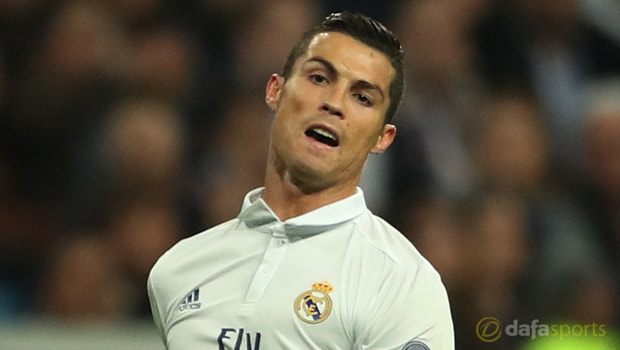 Real Madrid manager Zinedine Zidane has once again defended Cristiano Ronaldo as he continued to struggle in front of goal during the 2-1 win over Malaga on Saturday.
The Portugal international missed several chances in the first-half before captain Sergio Ramos headed home from a corner.
Ramos then scored again from a free-kick while Karim Benzema and Ronaldo continued to look frustrated up top.
Ronaldo has continued to struggle so far in 2017 but Madrid still went four points clear at the top of the La Liga table, with Sevilla looking to cut the gap.
At times during the match Ronaldo was subject to plenty of boos and jeers from the Santiago Bernabeu crowd but Zidane has played down his bad form.
He told reporters: "Sometimes when you have difficulties you need the fans' help and to be behind you. I am not going to criticise the fans because they pay their money.
"But with so many games and a lot of injuries, the players need to feel that love sometimes. The coach does too."
Ronaldo, Benzema and substitute Alvaro Morata all continued to be denied by Malaga goalkeeper Carlos Kameni but Zidane insists his club's growing injury list is more concerning.
"Have patience," he added. "In the past few games they haven't found the net, but that doesn't worry me. What worries me are the injuries."
Ronaldo will be determined to bounce back on Wednesday night Madrid take on Celta Vigo in the Copa del Rey before they welcome Real Sociedad to the Bernabeu on Sunday January 29.
Leave a comment