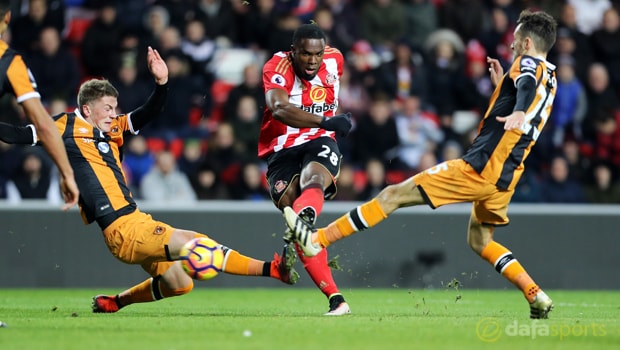 Sunderland manager David Moyes was quick to praise forward Victor Anichebe after describing him as a "young Drogba" after his display in the 3-0 win over Hull City.
Anichebe joined the club in the summer after Moyes took charge at the Stadium of Light, with the former Everton man deciding to turn down options from abroad.
He had to shake off a number of injuries at the start of the campaign, before making a huge impact in the 2-1 win over Bournemouth before the international break.
The 28-year-old was in form in front of goal on Saturday as he scored twice to help the Black Cats off the bottom of the Premier League table.
Fellow forward Jermain Defoe was also on the scoresheet but the Everton academy product was singled out for special praise at full-time.
Moyes told reporters: "Our strikers are in good form and I hope they remain that way.
Everyone knows about Jermain – he got his 150th Premier League goal today and only people who score goals know how hard that is to do.
"It was a good move and a good bit of play. He's been a great striker and his finishing is up with the top strikers, his goalscoring ability is incredible.
He's been at the top end of football for most of his career. "I've got to say Victor was very good too.
He was a good team player for us and he was like a young Drogba at times for us today, he was that good.
"He's been a bit unlucky with a few other chances but he's helped us find a way to win this game.
When we've needed people that can finish we've had them." Moyes' side are still in trouble despite back-to-back wins and they are priced at 1.50 to be relegated.
Leave a comment