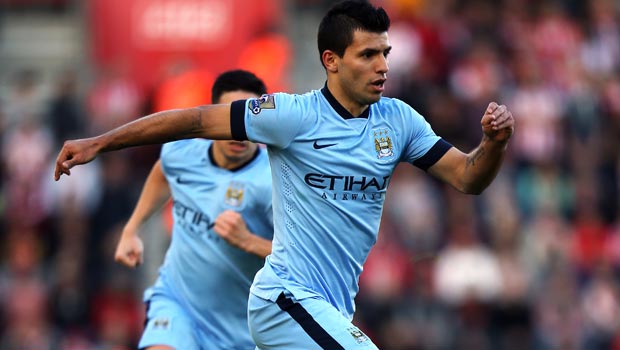 Star striker Sergio Aguero has reassured Manchester City fans after revealing that he wants to remain with the club until his contract comes to an end.
Aguero has been with the Citizens since joining from Atletico Madrid for a fee in the region of £38million in the summer of 2011.
The Argentinean has since established himself as one of the best in the world and earned legendary status at the club after scoring some important goals.
His most memorable came at the end of his first campaign when he netted the winner in a dramatic 3-2 win over QPR on the final day of the term to help the club claim their first ever Premier League title.
The 26-year-old boasts an impressive goal tally for the English side, hitting the back of the net 64 times in 100 games in all competitions, scoring at an average of a goal every 115 minutes.
The nippy front man has recently been heavily linked with European champions Real Madrid but he insists that is not something that he is considering.
City, who are priced at 29.00 to win the Champions League, would be reluctant to let such a talent leave with not many strikers around to step in and fill his boots but Aguero's latest comments suggest that he is more than happy in Manchester and eyeing further success.
Aguero said: "I want to be here and stick to the new contract I signed a few months ago.
"I want to keep winning things with the club and I want to stay at this level, scoring goals and having individual success. But the most important thing is to win titles. Ideally we would win one title every year.
"I want to be at City until my contract ends and then my plans are to go back to Argentina in the long term future. I want to be at this level while I am here and I want City to be the last team I play for in Europe."
Leave a comment