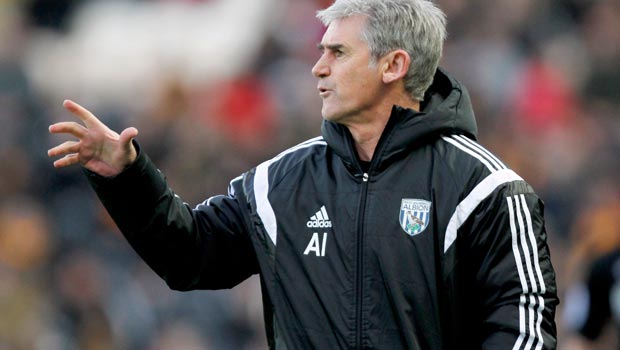 Alan Irvine claims he does not fear being sacked by West Brom but he is adamant that the side are "not too far away from getting good results".
The Baggies boss has come under pressure in recent weeks as the side have lost their last four Premier League games to slip down to 16th in the table and are just a point clear of third-bottom Burnley.
Irvine, who was a surprise choice by the club to replace the outgoing Pepe Mel in the summer, has subsequently held talks with the Albion chairman Jeremy Peace to discuss the side's current form.
But looking ahead to Saturday's massive game away against fellow strugglers Hull City, who are one point and one place beneath them, the Scot is adamant that his future wasn't on the agenda and he still has the backing of the club's hierarchy.
And having overcome the poor early-season form when there were still question marks from sections of the fans over his appointment, Irvine is confident they can do the same again.
He said: "I understand the way things are in this job. There's a short-term culture nowadays and, if it's not Alan Pardew getting stick, as he was six or seven weeks ago, it's somebody else.
"If it's me at this time, hopefully I will be able to get to the situation Alan is in because it wasn't that long ago I was at Stoke hearing people calling for his head.
"They are such fine margins. We are not too far away from getting good results. I don't think anybody who has been at the last two games can think we are miles away from getting a good result. We need some goals."
He added: "I have certainly been there at the start of the season when it was very much on me and people were questioning the appointment.
"We came through that and everybody thought I was great, but I said at that time that if we lost a few games then they would probably think I was hopeless again.
"That's the way it goes. Is it on me again now? It hasn't been but it might be at this moment."
West Brom are 3.02 to win at Hull, the Tigers are 2.38 and the draw is 3.14.
Leave a comment