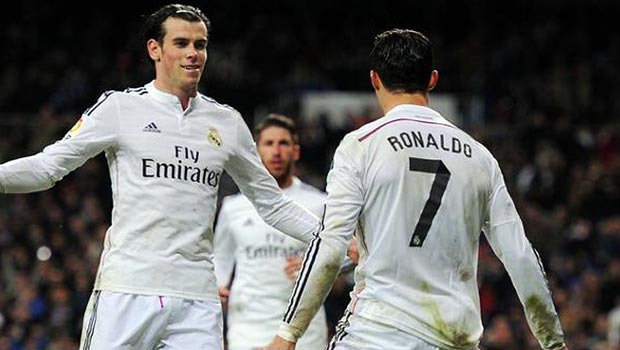 Real Madrid star Cristiano Ronaldo has asked the club's fans to get behind fellow forward Gareth Bale.
Some supporters have shown their disappointment in recent weeks, with some sections claiming the Welshman has become selfish.
Bale was booed on Saturday during the 3-0 win over Espanyol after he failed to square the ball to Ronaldo who was unmarked in the box.
Although Ronaldo was quick to show his dismay on the pitch, the former Manchester United star has asked the club's fans to move on and forgive Bale.
He told reporters: "Madrid fans are always the same, they are very intense, they show what they feel, they aren't liars.
"But I think the things with Gaz are normal because they know that Gaz is a very important player for us, a key player.
"What happened on Saturday is in the past, sometimes I make mistakes too so it's part of the business, part of football. I think the people will be nice with him and they should be nice with him."
Bale was speaking at the Ballon d'Or awards in Zurich where he won the award for the third time.
Ronaldo beat Barcelona's Lionel Messi and Bayern Munich's Manuel Neuer to the award after receiving 37.66 per cent of all votes.
He won the award in 2008 and 2013 and insists he still wants to improve in the future to become one of the greatest players of all time.
Both Ronaldo and Bale are expected to be in action on Thursday night in the Copa del Rey when Real take on Atletico Madrid.
Carlo Ancelotti's side are 1.57 to win the match, the draw is 3.86, and Atletico are 5.44 to claim the victory.
Leave a comment