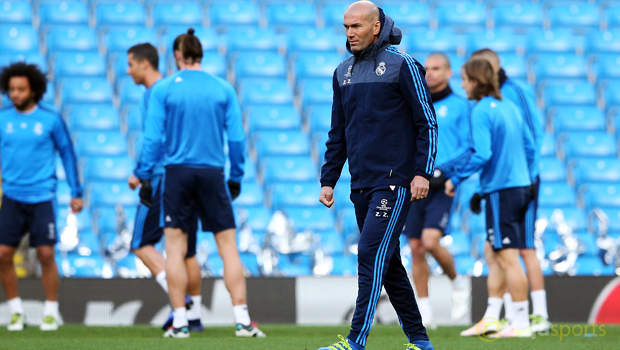 Real Madrid coach Zinedine Zidane is keen for his side to turn their focus to their upcoming Champions League final against Atletico Madrid, after they failed to prize the La Liga title away from Barcelona on Saturday.
Los Blancos went into the final day of the league season a point behind their great rivals, but despite securing a comfortable 2-0 victory away at Deportivo La Coruna, they were denied the title due to Barca's 3-0 success at Granada.
Zidane admits his players were disappointed that they could not secure overall glory in the league, but he is keen for his squad to now focus on their upcoming Champions League final against Atletico, which is due to take place at the San Siro on May 28.
"We are disappointed, but football is like that," Zidane said. "We have done all that we could do, which is most important, and now we are thinking about the last game we have left [the Champions League final against Atletico Madrid]."
Real were victorious when they beat Atleti in the final of Europe's premier club competition in 2014, but they have only won one of their last ten meetings with their city rivals since that success, including a 1-0 defeat when the two teams last went head-to-head at the Bernabeu in February.
Los Blancos will be looking to claim Europe's top prize for a record 11th time, while Atleti are aiming for their maiden win in the tournament after losing in the final in both 2014 and 1974.
Real are available as the 1.73 favourites to claim European glory, while the Rojiblancos are priced at 2.10 to secure the continent's top prize for the first time.
Leave a comment