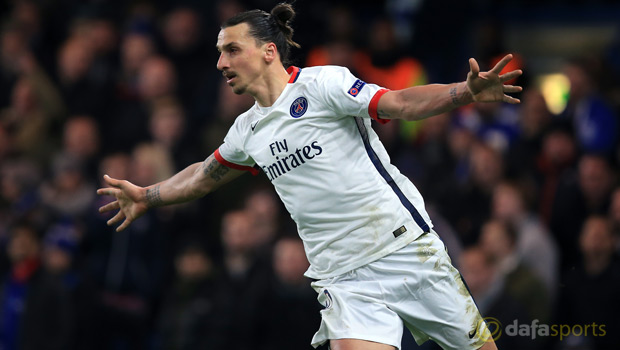 Paris Saint-Germain forward Zlatan Ibrahimovic has confirmed that Premier League clubs are hoping to sign him this summer.
The Sweden international is out of contract this summer at the Parc des Princes and he has continued to hint that he could move on.
Arsenal, Chelsea, Manchester City and Manchester United have all been linked in the last few months but Ibrahimovic is also attracting interest from other clubs in Europe.
Both Milan and Inter have hinted about a possible move but Ibrahimovic could be tempted to make his debut in the Premier League.
He has scored 35 goals in 40 games so far this season and has already helped PSG win the Ligue 1 title for a fourth successive year. However, talks about staying in Paris have stalled and now the former Barcelona star insists "big things" could happen in the coming months.
"I've had four fantastic years with them," he told reporters. "The relationship I have with them is only positive. They have done everything they could for me and my family.
"Yes, there is an interest, I can confirm that. We have to see where it leads. When the moment comes, when all the cards are on the table, that's when I have to go through what I want, and then we'll see who wants it more.
"It's like a marriage. Two parties have to want it, not one or the other. Each side needs to want it as much as the other."
Leave a comment