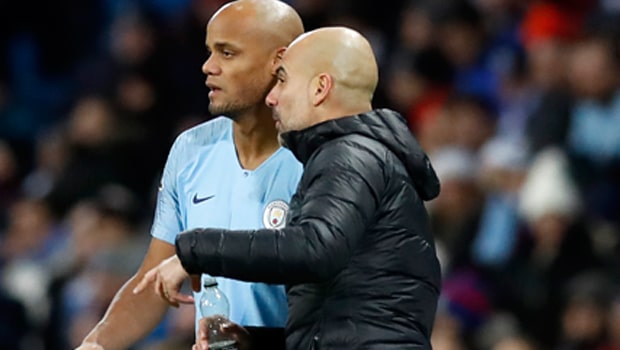 Manchester City boss Pep Guardiola has revealed a decision is still to be made over Vincent Kompany's future at the Etihad Stadium.
The Citizens skipper is out of contract at the end of the current campaign and some fans are worried that he will be forced to move on in the summer.
The Belgium international continues to struggle with injury and fitness problems but Guardiola admits he still brings a lot to the club on and off the field. Kompany has only played 14 times this season for the club and he remains on the sidelines due to a muscle problem.
He has not played since the game against Liverpool on January 3 and Guardiola admits the club have yet to decide what to do next.
"I think it's an issue that we have to speak with Vincent about – the club, him and his agent," he told reporters.
"We don't have any doubts about his quality, we miss him when he is not able to play. He's important, he is our captain and on the field he gives us extra that few central defenders around the world can give us.
"He's incredible – but the reality is in the last five years he's played few, really few. So that is the situation we have to put on the table and the club will discuss it with his agent and make the best solution for both.
"I would like to feel that the club knows the sentimental issue is so important. It's not important for making decisions, but (it is) for the players who have been here a long time and helped us to build what we are right now."
City will be without Kompany for Tuesday's clash with Newcastle, with City the 1.18 favourites. City are also available at odds of 3.75 to win on a -3 handicap.
Leave a comment