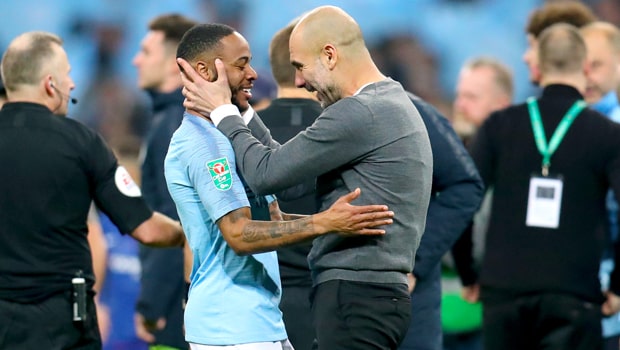 Manchester City boss Pep Guardiola insists Raheem Sterling can still improve as his side prepare to take on Schalke in the Champions League.
The Citizens produced a remarkable comeback in the first leg to win 3-2 in Germany, despite being 2-1 down in the final 10 minutes.
City are now as short as 3.25 to win the competition and Sterling's form will be key to their chances of lifting the trophy for the first time.
The England international grabbed a hat-trick on his last appearance against Watford but Guardiola still expects him to improve in the coming years.
He has been involved in 22 home goals in all competitions this season, more than any other Premier League player but the Spaniard wants more from him.
"He didn't follow his full back two times [against Watford], the second time he dropped him," Guardiola said.
"He lost two, three or four balls when he has to avoid it, because he conceded counter attacks and, many simple things.
"Of course I am so glad in terms of what he has done, scoring three goals. I would like to play the first half he played then score three goals, I would be the happiest man in the world.
"But I think it is good for myself too, to feel that we can do better, and I fell the first half was not the best first half Raheem has done this season. That's why I tell him, and we will work on that."
Leave a comment